When it comes to shopping, everyone has their likes & dislikes. If it is grocery shopping, parents might prefer Target, while the kids would prefer Walmart. There might even be a difference of opinion among parents and siblings as well. Likewise, if someone wants to buy clothes, they might have a particular brand in mind or a shopping mall they like.
[expander_maker id="1″ more="Read more"]
However, times have changed. Today, the fights are not over the type of place but how exactly to shop. In the digital age, every item is available for buying on the internet. In select cities in the US, you have the Amazon Fresh, a grocery delivery and pickup service. You also have Walmart, Target, Costco, and others.
Likewise, there are various online grocery stores in other countries, as well. In addition to grocery shopping, you can buy clothes, books, electronics, and even cars online today. It showcases how far we have come in terms of ease and technological development.
Many Prefer the Physical Experience
Despite the option of buying anything online, many people still prefer shopping in stores, i.e. physically. They prefer the experience of visiting a place or checking out the product they want to buy. When someone pitches the idea of online shopping, they are quick to discard it.
They have their reasons for not trusting online shopping. A few of them might be a victim of fraud. Then some simply do not feel the satisfaction they need like interacting with salespeople or just exploring the products in their hands. I mean, many of us see our parents smell the grocery to check if it is fresh. But online shopping does not provide such an experience.
Why Online Shopping is Better?
The online shopping trend is taking over the world. We have seen many of our favourite stores shut down. Because they cannot keep up with online stores. They could no longer afford to pay the rent on their buildings or ran into other problems. Similarly, many consider the shift to online more cost-effective as it helps reduce their operating costs. Look around, and you will see how different markets, brands, and organizations are now getting digitized.
If you are reading this article, the chances are that you are contemplating your first online purchase. Confusion and questions plagues your mind. Well, the following points will convince you to try online shopping.
1. It Saves Time
Time is money! And that is precisely what online shopping saves. Because there is no need to travel anywhere, wait in a line or waste your time finding the right parking space. You just have to select the product you want, hit the "buy" button and that is it. Your product will be delivered to you right at your doorstep.
The point is that people do not realize that it takes much time to buy things when they head to the market. Memories from our childhood might ring a bell. Our mothers walked into a friend, and we all know what happened next. On the other hand, online shopping is more comfortable and it saves time.
2. It is More Convenient
We all are living hectic lives. All people want is convenience, and that is precisely what online shopping is all about. You can comfortably sit back in your chair, relax on your couch and order whatever in the world you want. The best part about online shopping is that there is no limitation on time.
You can order any product at any time of the day, even if it is midnight or 2 am in the morning. And, once you do that, you will have your product delivered to you the very next day, just the way you want. Hence, you do not need to wait for the right time to buy a product or wait for your local store to open.
3. No Transportation Expenses
Fuel is costly, and the less you travel, the better it is. Well, if you want to avoid extra fuel costs, then opt for online shopping. Because, this can help you save considerable money on fuel and car-related expenses. Also, many online stores offer free delivery services. Therefore, you do not need to worry about transportation costs.

4. It is Easy to Search What You Want
It would not be wrong to say that the internet is no less than a blessing for us. Think about it? If you are looking for something, for example, a "wooden toy car," you would not easily know where to find it. Trust me, there are times we have to buy certain things, and we have no idea where to look.
But on the internet, wooden toy cars are just a click away from you. You head to Google, type "wooden car," and hundreds of sites and results will pop up on your screen. It is just so easy to find what you want on the internet. The picture below shows a search for a wooden car on Amazon. You might not know which store offers wooden cars, but with online shopping, you do not need to know! You simply type and press enter!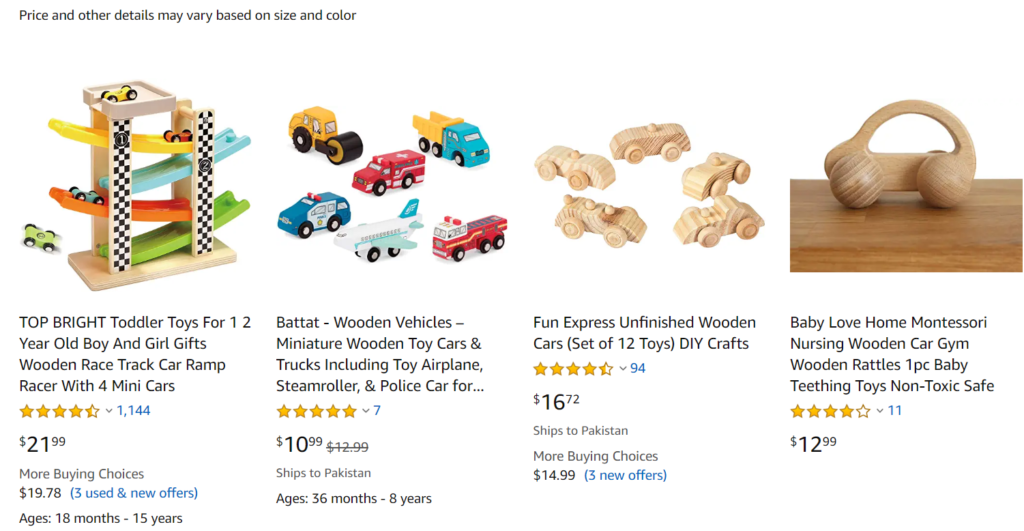 5. More Variety
In stores, you buy what you see. In online shopping, you have much more variety. If you do not like something, you can always switch to another online store with just a few clicks. Likewise, online shopping now allows you to customize your products to suit your needs.
For example, if you want to buy clothes, you can select different designs, colours, or even design clothes yourself. Furthermore, imagine a one-place shop from where you can buy all sorts of groceries. You do not need to visit the farmers market for fresh vegetables or the meat market for quality meat. You can simply order online with just a few clicks.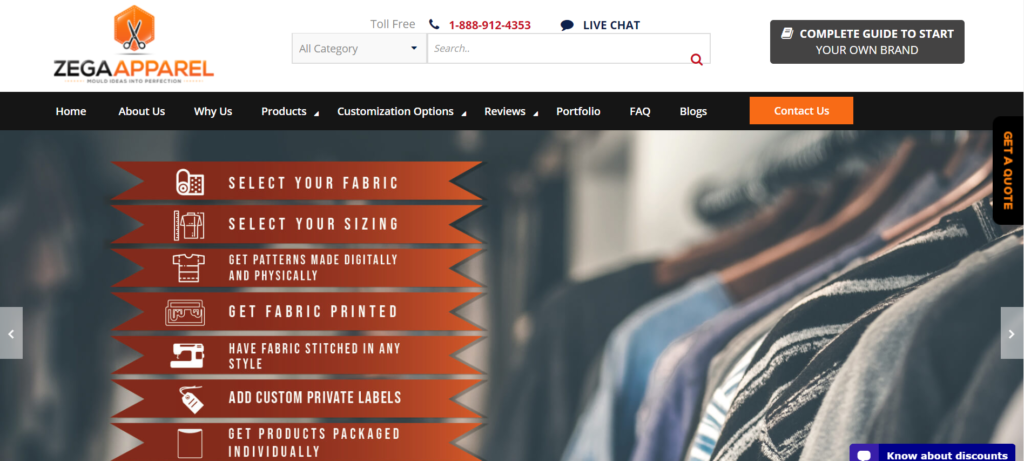 6. Price Comparison
While shopping in stores, you cannot compare prices. On the other hand, online shopping allows you to compare prices among different sellers. For example, you can use Google Shopping or Yahoo Shopping to make price comparisons. It will enable you to get the products you want at the lowest possible prices.
7. Best Deals
One thing that I love about online shopping is the never-ending deals. Check for yourself! Visit any premium online store. You will always find a hot deal. Amazon has a separate 'Today's Deals' page, which updates every day with new deals and discounts on a variety of products. In addition to this, you will find an online sale on nearly all renowned online market places.

8. Price Match Guarantee
Many online stores offer a price match guarantee. For example, consider that you want to purchase a Dell laptop. Once you check the website, you find out that the price is higher than on other sites. What you can do is contact a Dell sales representative and show them the link/proof of the lower price.
Afterwards, Dell will match the price and offer you the same product (new or refurbished) at that price. Please note that each online store has their policies for price match guarantee. Therefore, make sure to check it out in detail! Also, not all online stores offer a price match guarantee.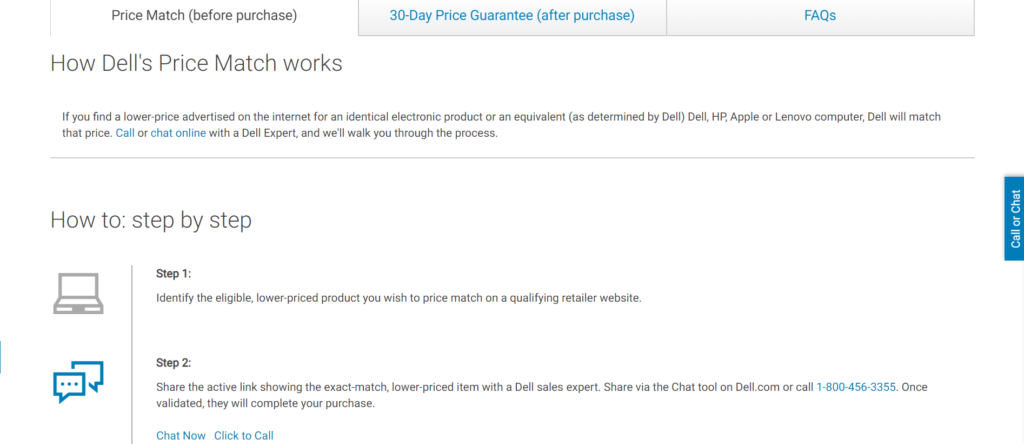 Wrapping Up
These are some of the main things that explain why online shopping is better than in store shopping. Lastly, I hope that I can convince you to try online shopping and buy the product online that you have been dying to get your hands on! Let us know what you think in the comments section.
[/expander_maker]