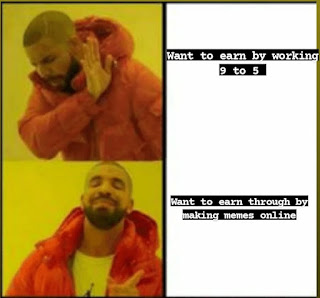 Memes are essential to today's social media, and finding someone who has yet to hear of them is challenging. You will surely come across memes if you visit a social networking platform. Memes are a fun way to express yourself in response to current events or pop culture.
Memes are amusing and have the potential to generate revenue. If you're good at making memes, don't waste your time sharing them and hoping for likes; instead, go out of your way to generate money. Yes, it is conceivable. Do not be surprised; read the following things!
There are, however, other unique ways to make money from memes, depending on the context and why the meme became viral.
1. Creating a meme page on Instagram
The most effective platform for selling and profiting from memes is Instagram. But are you concerned about how to do it? There's no reason to get worried.
Mixing the two is a great combination because memes are visual, and Instagram is primarily a visual medium. Launching a meme Instagram account aims to grow it to the point where it becomes a trend. As a result, the more fans and friends you have on your meme page, the more companies you will attract. You can charge them for promoting their products on your page. They may also approach you and request a commercial.
In any event, this is how a meme page on Instagram may earn money. Each paid post has a price; the more followers you have, the more money you make. As a result, an online meme creator can monetize their memes and profit from them.
2. Manufacturing and Trading meme-based content
If you're a meme maker, you shouldn't limit yourself to only making them for fun. Memes can also be used to make money. Memes have become commonplace in our daily lives. Those who understand how to benefit from memes understand that their options aren't restricted to their computers. Instead, they utilize their memes to motivate them to create an authentic product, which they then sell.
If you have a meme Instagram profile, look for the memes that have received the most attention. Make a physical object out of the meme. Two recent college graduates were inspired by the internet's famous nut button meme to create an actual nut button. They've made almost $200,000 in profit!
The following websites are where you can sell your meme-based products:
• On your website: Create an online store and sell your products there. To increase visibility, link your website to your meme social media platforms.
• Online Marketplaces: You may also sell your products on Facebook Marketplace, eBay, and Poshmark.
• Etsy: Like any other thing, list your meme items on Etsy. Sprinkle keyword phrases throughout the material to increase exposure.
3. Creating a YouTube channel only for memes
Owning a YouTube channel is a great way to make money from memes since it allows you to monetize in various ways. YouTube is another famous site with millions of viewers from which you may profit by using meme generators to generate memes in multiple circumstances. After that, you may assemble the memes and turn them into videos.
The procedure is quite simple. Once your channel reaches a particular number of views, you can join the YouTube Partner Program. As a YouTube Partner, you earn money by advertising your videos. On the other hand, YouTube does not say how many videos artists make from the platform; internet estimates suggest that the cost per 1,000 varies between $0.26 and $8.
You won't be able to make money on YouTube right now because you'll need many views to qualify for the YouTube Partner program. You will, however, be able to make money once you have accomplished this.
Memes are all the hype these days and have existed for some time. Memes are an inextricable part of online culture and can be found almost anywhere. Meme generators simplify creating a meme by a factor of a thousand. After you've entered your image or data into the generator, you'll need to put it all together. You've finished the job. People nowadays make memes about everything from teleworking to the advantages of being an introvert. You can market your memes and be paid by using meme generators or meme maker applications.