Every now and then, we come across a story that leaves us baffled. Today, I will be bringing you a similar story that is guaranteed to leave you confused. I do warn you that this story does not have a happy ending but sure does have a happy start.
The Beginning
The story starts off with Nicholas Yung, a German who had immigrated to the United States in 1848. Yung ended up owning a mortuary in San Francisco. The money from the business allowed Yung & his wife to build a modest home at the top of California Street Hill. The couple even had a garden. Every day, the couple enjoyed the sunlight & fresh air.
However, this was all going to change soon. Yung or anyone else for that matter could not have predicted that their life was going to turn upside down.
The Entry of Charles Crocker
The second character in this story is Charles Crocker. A quick search on Wikipedia will tell you that he was a railroad executive. He is also among the founders of the Central Pacific Railroad. Crocker was hardworking throughout his life. Starting work early (as was the norm back then), he used his savings to set up an iron forge.
Together with Mark Hopkins, Collis Huntington and Leland Stanford, he founded the Central Pacific Railroad. The Big Four, as they were referred to, built the western portion of First Transcontinental Road in the Northern part of the USA. Afterwards, the Big Four also built other railroads throughout the USA.
Crocker also served as the President of Wells Fargo and was its controlling shareholder at one point. He also founded the Crocker Bank, acquired by Wells Fargo in 1986.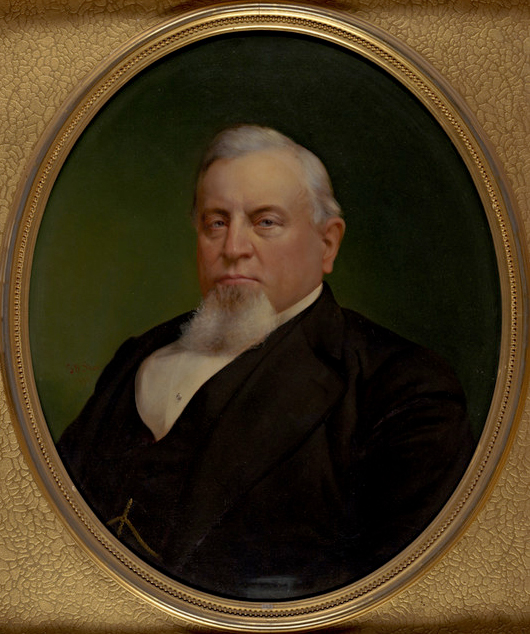 Yung's Life Takes a Turn for the Worst
Crocker could afford anything he set his eyes on. The wealthy businessman along with others set their eyes on California Street Hill. The area, famous for its picturesque views, had caught the attention of the wealthy elite. Soon, they began to buy all properties in the area. The idea was to have large mansions built in their place.
As the wealthy started to settle here, California Street Hill became Nob Hill.
Crocker built a 12,000-square-foot mansion, a testament to his wealth & success in the railroad business.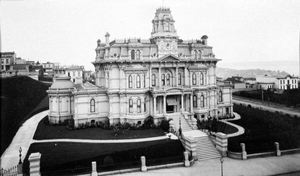 But there was thing that kept nagging Crocker. In the northeast corner, Yung & family were still living their lives. Their modest home seemed even more modest as it was surrounded by the mansions of the wealthy. What happened next is slightly debated. There are many versions of the events that folded.
According to one version, Crocker offered Yung money to move out. But Yung refused. In another version, Yung kept raising the price every time Crocker paid a visit. Others say that Yung had asked for $12,000. Crocker refused, calling the amount excessive. He countered with $9,000. Again, Yung refused to budge. At the end, Crocker simply walked away while shouting profanities.
However, he was not done just yet.
Spite Wall – The 40 Foot Wall is Erected
At one point, it is said that Crocker ordered construction workers to make sure that the debris from dynamite blasts (used for cutting down huge rocks) rattled off Yung's house. Instead of driving Yung away, Crocker angered him further. Both men refused to budge and were at a stalemate.
Crocker ordered his workers to construct a 40 foot wall on his land.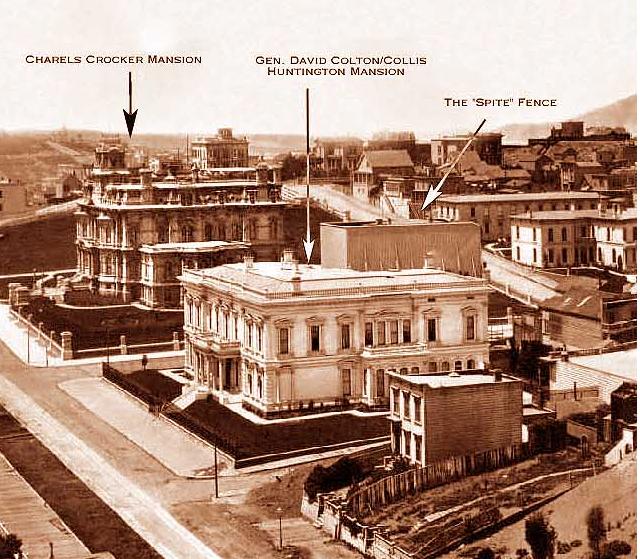 Crocker's land in a way surrounded Yung's house. The result was that the 40 foot wall immersed Yung's house in darkness. Yung & family could no longer enjoy the sunlight or fresh Californian breeze. Even the garden began to wilt.
On the other hand, Crocker's garden was brimming with flowers. While it certainly was unethical and outright immoral, the 40 foot wall was legal. With no legal recourse, Yung stood in defiance. He even threatened to put a coffin on top of his house to blight Crocker's view. Yung even responded by trying to install a flagpole with a skull & bones insignia.
The People Show Interest
Soon, people began pouring into the neighbourhood. Crocker grew infamous. The people had termed his actions as bullying. The press started to call it the 'Spite Fence'. The Workingmen's Party of California organized a protest outside Crocker's house over his decision to hire Chinese immigrants for work. One of the protestors threatened to tear down the wall but they were nothing but hallowed threats.
Yung Decides to Leave
Yung & family could no longer bear to live at Nob Hill. They moved to a new place but still refused to sell the place to Crocker. When Yung passed away in 1880, Crocker decided to convince his widow. But Mrs Yung proved to be a tough soul like her husband. She, too, refused. Their once serene house was now empty, fast becoming a place for garbage & empty cans.
Crocker passed away eight years after Yung's death.
Crocker's heirs, too, were unsuccessful in persuading Yung's widow to sell the plot. The widow, Rosina, approached the city administration to have the wall torn down. She argued that the wall was a nuisance and had made her former unliveable. While the City agreed, they said that there was no legal reason to force the Crockers to remove the wall.
By now, the wall was 25 feet. The wall's size was reduced due to the risk of it falling over. Rosina passed away in 1902 and her daughters finally sold the plot to the Crockers. The exact amount is not known.
While Yung might have rolled over in his grave, Charles Crocker, too, could not be happy for long. Shortly after buying the plot, disaster struck.
1906 San Francisco Earthquake
One of America's deadliest natural disasters struck in 1906. On April 18, a 7.9 magnitude earthquake hit San Francisco. Soon, fires broke out throughout the city. Buildings were burnt and more than 3,000 people died. One of the areas that the fires ravaged through was Nob Hill. The Crocker mansion could not survive along with numerous others.
Instead of rebuilding the mansion, the Crockers decided to give the land to Charity. In its place, today, you will find the Grace Cathedral.
Next time you find yourself in San Francisco, make sure to visit Nob Hill and see the Cathedral too.