The Financial Action Task Force (FATF) decides to keep Pakistan on its Grey List. Pakistan now has till June 2020 to improve its controls on money laundering & terror financing. A press release by Pakistan's Finance Division said that,
"FATF members agreed to maintain Pakistan's status on FATF's Compliance Document, normally referred [to] as the Grey List."
[expander_maker id="1″ more="Read more"]
Furthermore, FATF also issued a statement once the meeting concluded. It urged Pakistan to complete the Action Plan by June 2020. Failure to comply will result in strict action by the FATF. Some of the implications for failing to comply include:
Existing economic crisis will further exacerbate.
Access to international loans will be severely restricted.
Rating agencies like Moody's might downgrade Pakistan's ratings, further complicating Pakistan's economic crisis.
Remittances, imports, and exports will be negatively impacted.
Sanctions against Pakistan's Banking & Financial Sector.
China Side's With Pakistan in FATF Meeting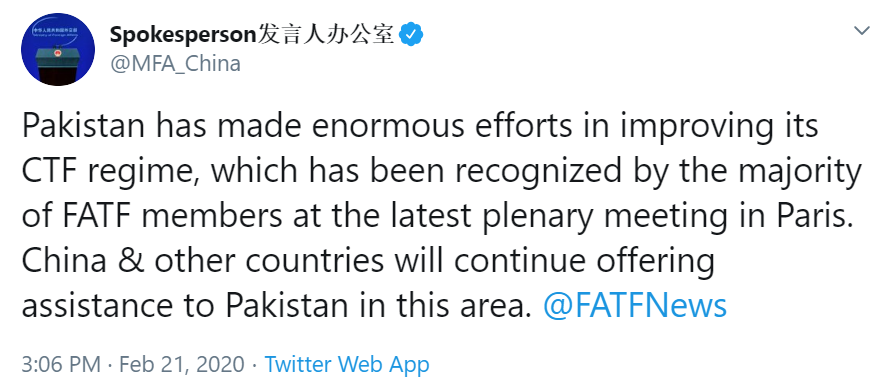 Chinese Foreign Ministry said that China recognizes Pakistan's efforts to meet the FATF requirements. In addition to this, Turkey & Malaysia have also continuously supported Pakistan. China along with brotherly countries have helped Pakistan to comply with the FATF framework. The Pakistani Government has thanked the countries for their support & help.
Also, Pakistani courts convicted Jamaatud Dawa leader Hafiz Saeed in two cases. The cases are related to terror financing. Hafiz Saeed was handed a sentence of 11 years in total for the two cases. Furthermore, India & the United States welcomed the news. In addition to Pakistan, FATF also looked into the progress made by Iran, Korea, and the UAE.
About FATF
The FATF is an inter-governmental policy making body with a mandate to combat money laundering & terrorist financing. Also, it seeks to tackle all other issues which threaten the international financial system's integrity. There are 39 members of the FATF.
[/expander_maker]