BBC Television issues an apology after the reporter termed the sign of Muslim prayer as a terrorist salute. Dooley visited the al-Hawl Camp in northern Syria that is under Kurdish control, for her documentary. The trailer the documentary shows the anchorperson speaking with women behind a fence. This clip showed that 2 ladies were raising their fingers upward towards the sky.
The clips shows Dooley saying, "when we left the camp, 2 women raised their fingers (index finger) as a salute to IS (Islamic State)". Foolishly, she refers to the gesture of "Tawheed," which is a sign of Islamic prayer as an IS salute. However, this symbolizes the uniqueness and unity of God. This mistake made by Dooley resulted in a severe backlash among the Muslim communities throughout the world.
Anisa Subedar, a BBC journalist, tweeted: "Raising a finger towards the sky is NOT a form of IS salute." "Does she know we Muslims do this 5 times a day during prayers to remind ourselves of the oneness of Allah?"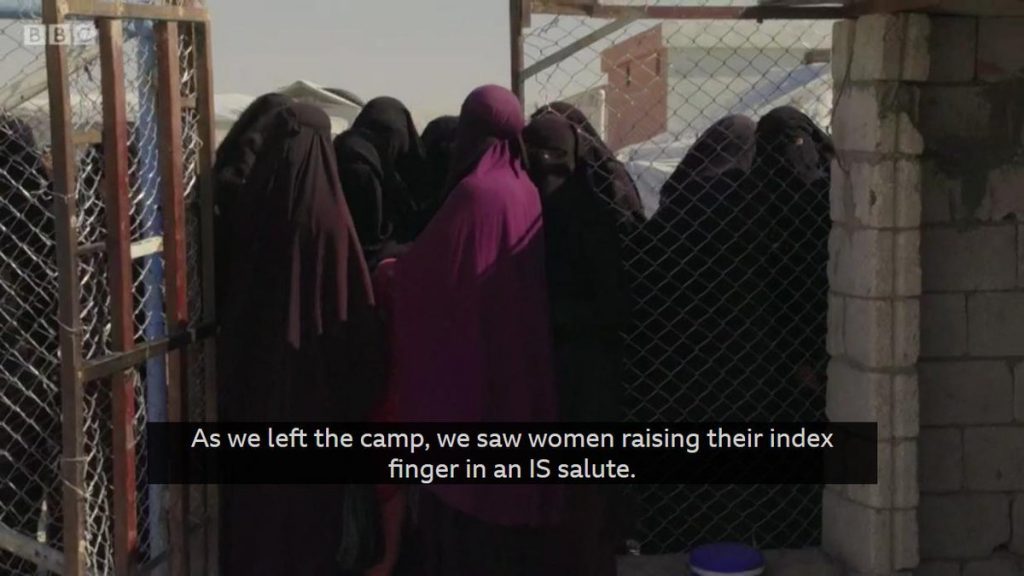 During such criticism, BBC issued an apology. BBC published a statement which said that they have wrongly explained the sign as an 'IS salute'. Over the years, IS did try to use this gesture for gaining success in their propaganda, but have failed to do so.
However, we must be clear that Muslims use this sign or gesture for signifying the oneness and uniqueness of Allah. They further added that they apologize for this mistake and have removed this clip from the documentary.
Dooley's Comments Removed
After the backlash, Dooley's comment are no longer a part of the final documentary. Needless to say, her statement delivers a wrong narrative that the so-called IS and its activities are representing Islam.
Pundits remark that one should search before saying or writing about any religion or any person. Judgments made in error or haste can lead to unwanted consequences. Users on social media platforms have also condemned what they call 'willful maligning of Islam'.
BBC Television Should Do More
Although BBC Television made an apology over Dooley's statement, it did very less for ending this controversy. People are of the opinion that Dooley should offer a personal apology for this matter as it hurts Muslim sentiments. Lastly, before publishing, BBC must vet its documentaries and articles. Vetting in no means that BBC should start censoring its content, which goes against the principles of freedom of press.
The documentary can be found here.