PEMRA (Pakistan Electronic Media Regulatory Authority) has banned the broadcasting of all content, products or advertisements featuring Indian actors. The decision was taken last Thursday keeping in mind the precarious condition between Pakistan and India.
Relations between the two neighbours deteriorated due to India's actions in the Indian Occupied Kashmir. Furthermore, the notification highlighted 11 advertisements in particular. These include:
Surf Excel Powder
Pantene Shampoo
Dettol Soap
Head & Shoulder
Fogg Body Spray
Lifebuoy Shampoo
Sunsilk Shampoo
Sufi
Knorr Noodles
Safeguard Soap
Fair and Lovely Face Wash
Also, the ban applies to TV channels as well as radio channels. The ban comes into effect under Section 27 (a) of the PEMRA Ordinance 2002. According to this Section, if a channel violates this ban, legal proceedings will be initiated.
Moreover, under the Ordinance, PEMRA has the authority fine the violator. PEMRA also has the power to take the channel off-air for violation. A more severe penalty is that the licence of the TV or Radio channel can also be revoked.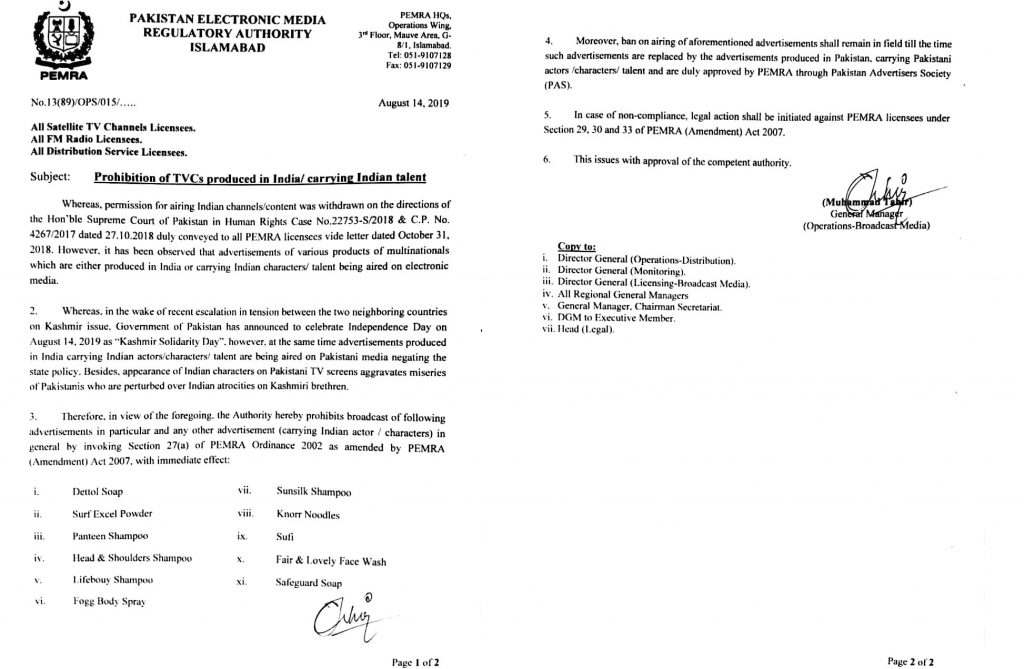 Furthermore, it is also worth mentioning that India has taken similar steps over the years as well. Pakistani actors, singers or other professionals are not allowed to work in India. Likewise, Pakistan has banned Indian actors from working in Pakistan.
The Curious Case of Mika Singh
Also, The All India Cine Workers Association (AICWA) recently banned Mika Singh from the Indian entertainment industry. The ban came into effect after he performed in Pakistan. Interestingly, the singer performed during the ongoing tension between the two neighbouring countries.
Mika Singh has reportedly taken $150,000 for performing at a wedding of former President and Chief of Army Staff Pervez Musharraf's cousin's daughter. The AICWA accused him of valuing money over the interests of the country. Mika Singh has since apologised for his actions. It remains to be seen what his fate will be.
PEMRA's Decision A Step In The Right Direction
The decision of PEMRA to ban Indian content is a step in the right direction. People from different backgrounds are welcoming the decision. Considering the ongoing tensions between the two countries, there is no justification for airing Indian content.
Moreover, as long as India does not provide a fair ground to Pakistani professionals wanting to work in India, the ban should stay. However, there also those which are criticizing the decision as immature.