Sport leagues throughout Europe remain suspended amid the coronavirus outbreak. The La Liga, English Premier League, Bundesliga, Seria A and Ligue 1 are among the suspended leagues. While this is done to comply with isolation directives issued by their respective government, it led to one issue after the other.
What happens if the leagues cannot resume? Will teams be relegated or promoted? What happens to the teams who are well on their way to winning the league (e.g. Liverpool)? Likewise, there are leagues where the top 2 or 4 teams are neck to neck (FC Barcelona & Real Madrid). Some have called for the entire season to be declared null & void.
Others argue that the season must continue once the coronavirus threat subsides. On the other hand, there are also that say the season must be considered completed. The top must be declared the winner. However, these are not the only problems plaguing the footballing world. If there are no football matches being played, clubs are not making any money.
What Other Clubs Have Done
If the club is not earning money (from ticket matches, ad revenue, TV deals or otherwise), how can it pay the players & staff their salaries. This is a major issue. But players & their clubs have shown maturity. The Juventus players & manager have decided to forgo €90 million to help the Club ride over this crisis.
This is equivalent to four months of wages. Cristiano Ronaldo, a top earner, is nearly foregoing €10 million. In a statement, the Club said,
"Should the current season's matches be rescheduled, the club will negotiate in good faith with the players and the coach conditional increases of compensations according to the actual resumption and finalization of official competitions".
Three Juventus players, Blaise Matuidi, Daniele Rugani and Paulo Dybala have already tested positive for Covid-19. Spanish Club, Valencia have already said that about 35% staff & players have tested positive for coronavirus. Paulo Dybala claimed that he was struggling for breath, one of the common symptoms of coronavirus. Others are already self-isolating.
FC Barcelona, Messi & the Curious Case of False Reports
A few days ago, it was reported by various newspapers that FC Barcelona players have refused to take a wage cut. Instead, it was said that the players have criticized the club management for bringing unwanted players to the Camp Nou. These ill-advised transfers surely have affected FC Barca. But it appears that these rumours are nothing but lies. Taking the charge, Barcelona's top player, Lionel Messi, issued a statement on Instagram.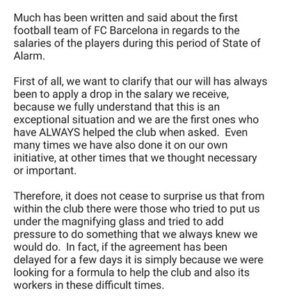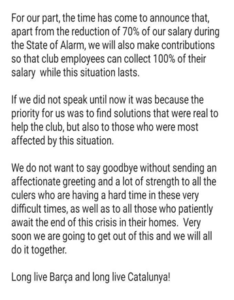 Messi Criticizes Elements within FC Barcelona
Leo Messi, addressing the rumours, said that the players have always been ready to take a wage cut to help the Club & employees through this period. He criticized certain elements within the Club who he claimed were pressuring the players to do something they were going to do anyways. Moreover, the Barcelona talisman said that they did not issue a statement earlier because they were working with the club to work out a practical solution.
[expander_maker id="1″ more="Read more"]
The players have decided to forego 70% of their wages so that club employees can take home their full wages. This is not just a great gesture by the Barcelona players but shows their commitment to the club & supporters. Lionel Messi ended his statement by thanking the Culés (FC Barcelona fans) and wishing everyone best of luck during this epidemic.
How Football Clubs like FC Barcelona Make Money?
Football Clubs around the world earn money through various means. They include:
Broadcasting Rights
The most common way through which a football club earns money is through broadcasting rights. Local and international broadcasters bid for rights to telecast live matches to millions of football fans. For example, Telefónica pays €980 million to La Liga for exclusive rights to air live matches. This money is then redistributed among the clubs.
Merchandise
Another way clubs make money is by selling merchandise. Fans buy their favourite footballer's or club's merchandise. Many clubs run stores for this purpose.
Match Day
People buy tickets which is a source of revenue for the club. In a 38 game season, 19 matches are played at home. This brings in much needed revenue. Moreover, apart from the league games, there are Champions League/Europa League games along with Domestic Cup matches.
Tournament Money
Clubs also make money by participating in tournaments. Consider the 2019/2020 Champions League. €30 million will be distributed among teams just for playing in the play-offs. Reaching the group stage will earn you 15 million euros (per group). €9.5 million is awarded to each club for qualifying for the Round of 16. €10.5 million is given to each club for reaching the quarter finals. €12 million per club for reaching the semi-finals. €15 million per club for reaching the finals. The winner gets an additional €4 million. UEFA Super Cup finalists get €3.5 million, while the winner gets an additional €1 million.
Transfers
Consider the most expensive transfer. When PSG bought Neymar from FC Barcelona for €222 million, it was Barcelona that got this money. In simple words, clubs make money from selling their players to others.
Sponsors
Brands like to maximize their reach. One way to do is to sponsor clubs with millions of fans. Big brands like Nike, Adidas, Samsung, Chevrolet sponsor football teams. For example, Chevrolet sponsors Manchester United. The Chevrolet logo is clearly visible on the jerseys on Manchester United players. Likewise, Rakuten sponsors FC Barcelona.
[/expander_maker]