A very handful of people achieve the status of 'immortal'. Tariq Aziz is certainly one of such people who continues to live in the minds of many. Through his charismatic personality and captivating voice, Tariq Aziz was a household name in Pakistan.
A personality & voice that was once synonymous with Pakistan Radio and Television.
2020 keeps getting worse for Pakistan & the world. Pakistan is in the midst of rising Covid-19 cases. Recently, a Pakistani airliner crashed, killing all but 2 people on board. Now, Tariq Aziz, breathed his last on Wednesday, June 17th. As the news of his demise hit the news channels, Pakistanis were mourning.
After all, Aziz was a legend and a huge asset to Pakistan.
He was and is extremely popular amongst Pakistanis across different generations. If you ask a Pakistan, old or young, everyone will have something to relate with him. Such is the status and prestige that Tariq Aziz enjoys to this day. Tariq was surely multi-talented.
A Brief Biography
The legend was born in the city of Jalandhar (United India) on April 28th, 1936. After independence his family migrated to Pakistan and resided in Montgomery (now Sahiwal). It is here he received his education. He is a Graduate of the Government College Sahiwal.
He married Dr. Hajra Tariq Aziz. Although the couple have no children, Tariq was not perturbed. He remarked that it is the Will of Allah to bestow anyone with a child. Regarding his property, he said it multiple times that his property and earnings are for welfare of country and children struggling to get education because of poor finances.
The Career of Tariq Aziz
Tariq's career began with Radio Pakistan in the 60s. He went on to become the very first television host in Pakistan when PTV (Pakistan Television; a state-owned Television entity) went on air for the first time. He worked in the film industry as an actor as well. Some movies that are worth mentioning here are Insaniyat (1967) and Salgira (1969).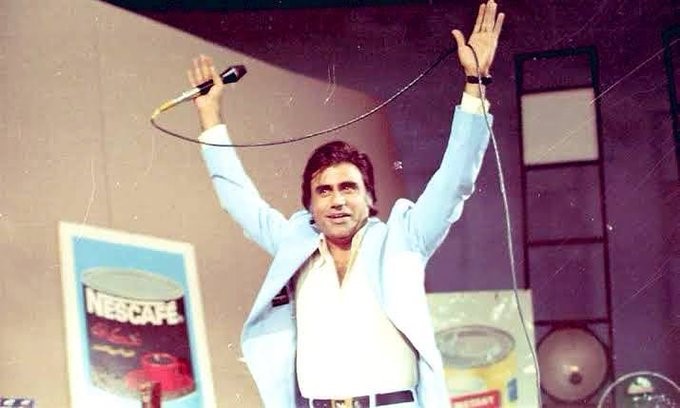 However, these were not the reasons behind his eternal fame. Instead, it is his TV shows like Nilam Ghar, Tariq Aziz Show, and Bazme Tariq Aziz that catapulted him to the status of an icon. People across Pakistan enjoyed these shows because of their unique format and fun plays.
Tariq was more than a really good speaker. Even until his death, he had the ability to inspire people through his iconic firm voice. He helped a lot of media celebrities in reaching the heights by introducing them on stage through his iconic quiz show stage.
People were fans of his energetic stage presence and influential voice that made people crazy behind his show. People used to wait keenly for his shows. This earned him fame and money. He remarked in an interview that he receives a million rupees in the form of charges for presentation on the stage.
In addition to this, Tariq was fond of Punjabi poetry. There are several books credited to his name. A few of them include 'Hamzad Da Dukh' (The Grief of Partner) in Punjabi language and 'Iqbal Shanasai' (Knowing Iqbal). Tariq actively participated in politics too.
He was a member of the National Assembly twice. Tariq Aziz also received a pride or performance award from President of Pakistan for his exceptional services to the television industry in the year 1992.
Notable Personalities Pay Tribute
A number of notable personalities including the President and Prime Minister of Pakistan expressed their grief and paid tribute to the legend through their twitter handles. There were many celebrities belonging to different industries who paid tribute to the pioneer of television industry.
He will always be remembered for his iconic stage presence and influential voice.
The void left behind will never be filled. Whenever one hears his name, people will remember the iconic phrases. "Dekhti Ankhon or Suntay Kanon ko Tariq Aziz Ka Salam" (Greetings to Seeing Eyes and Hearing Ears from Tariq Aziz) is one. His energetic slogan of Pakistan Zindabad (Long Live Pakistan) is another.
Rest in Peace Legend!
Here is the small clip of First Day of Opening PTV Transmission By Tariq Aziz