Beginning with the Registration at upwork
The very first task you need to do is go to upwork.com & click on 'Sign up'.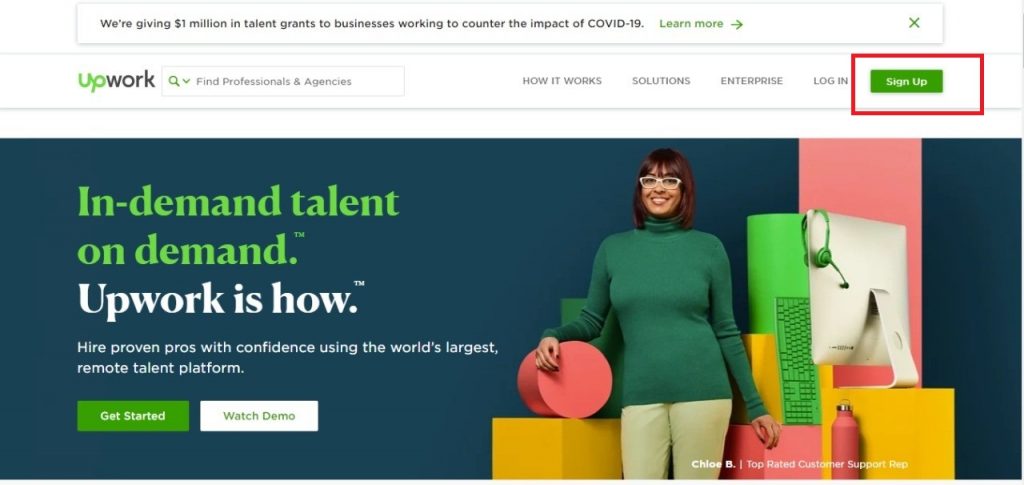 The most important thing to mention here is that if you are planning to utilize Upwork as a freelancer as well as a client, you don't need a separate account. Once you are done with your freelancer account, you can create a client account based on your previously created account. If you choose to make two separate accounts for this purpose, keep in mind that you can be banned forever from the platform because it's a serious violation of Upwork Terms of Service (ToS).
Read More
Get your free account at Upwork
As soon as you click on the Sign up button, you will be provided two options.
Either you can sign up with Gmail or with Work mail. The easy & preferable option to choose is Continue with Gmail. Click on Continue with Google & it will provide you two choices. Either you can make your new Google account or Sign up with the existing one.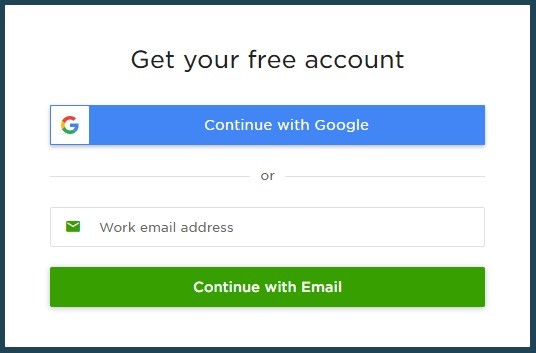 Complete your free account setup
After you are done with adding valid Gmail account, it will inquire you about your country, choose it. As soon as you are done with it, Upwork will again ask you what you are supposed to be on this platform – a client or a freelancer. Select Work as a Freelancer & move further.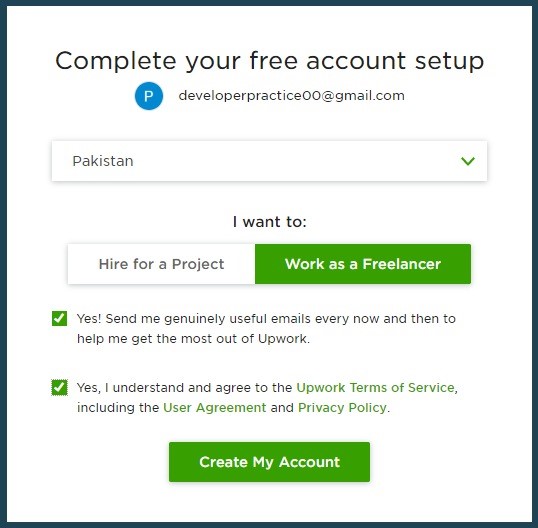 Next, you will see a field with label "Receive genuinely useful emails is not necessary, but highly recommended", check this & go further. The last checkbox is about the Terms of Service of the Upwork. It is a common practice to check this field without reading but it is highly recommended for you to at least give a glance to its table of content.
Fill out your profile to apply
As soon as you click on the link provided to you via email, you will be asked to provide your basic professional information. It is the beginning of filling your profile. Make sure to fill out the mandatory fields & you can fill out other fields later.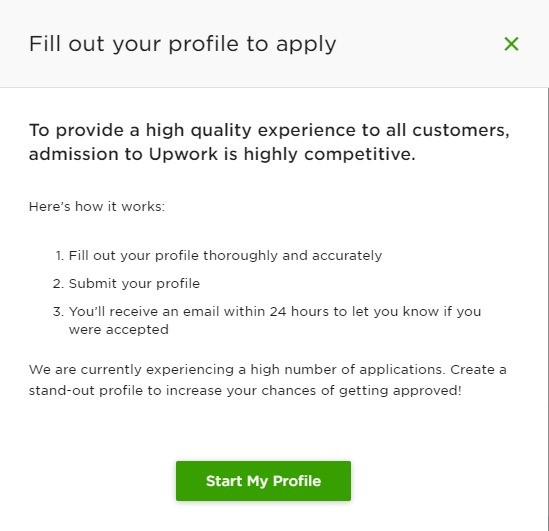 Expertise
When you make an Upwork profile, you have expertise in one area or another. This is where you are required to choose your specialization (Website development, software development, game development, SEO expertise, etc). You can choose up to 4 key skills but writing down the exact 2 to 3 are enough, in my point of view.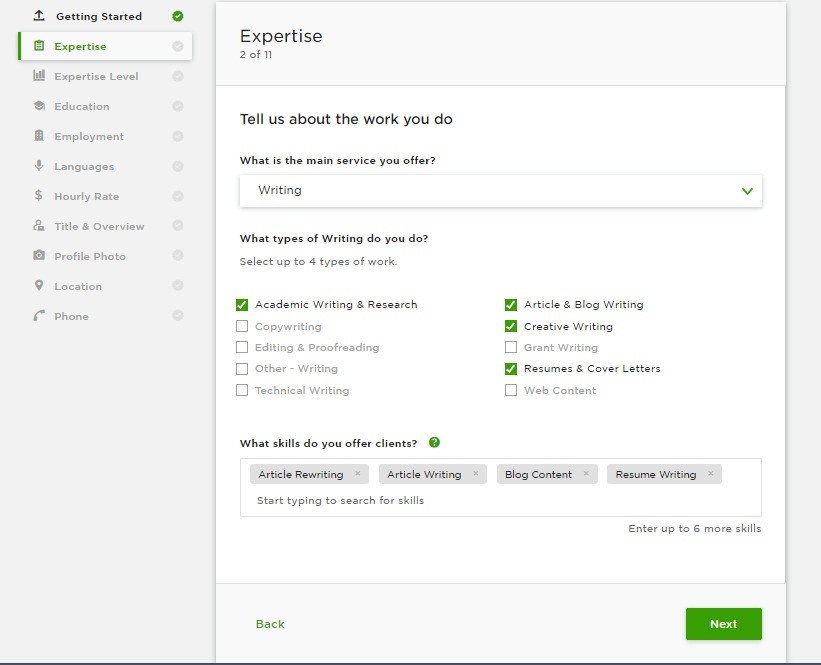 Skillset
This is directly related to your specialization (Software, technologies, etc). Make sure to specify your at least 5 to 7 most relevant skills.
Expertise level
Your expertise level directly or indirectly narrates your payment level. If you are a beginner, you will choose entry-level, but I would recommend you to choose an intermediate level because the entry-level experience somehow describes poor quality work. The people perceive that you are a beginner & don't know anything.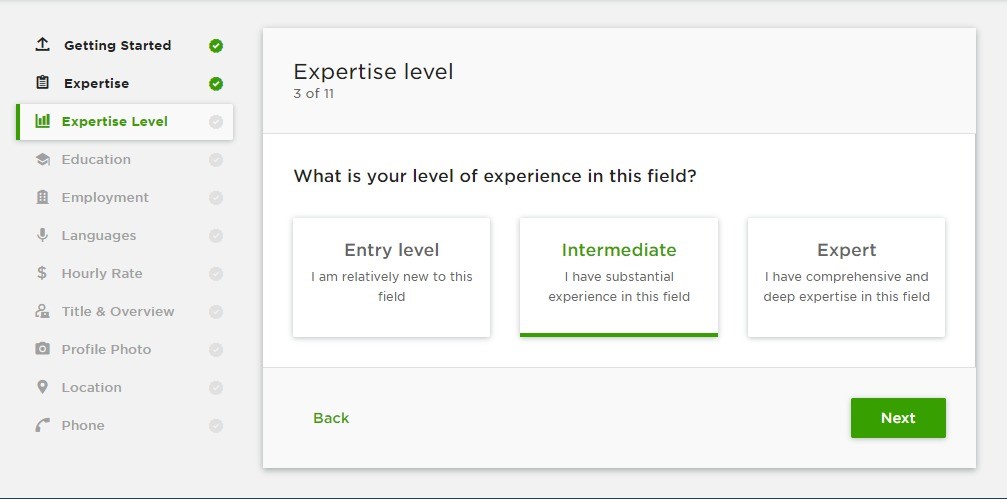 Additional profile information
For this, have a look at the example profiles & you will surely get to know what the platform recommends to create a profile successfully.
Education
Make sure to add your education history here as your area of study will grab the attention of clients.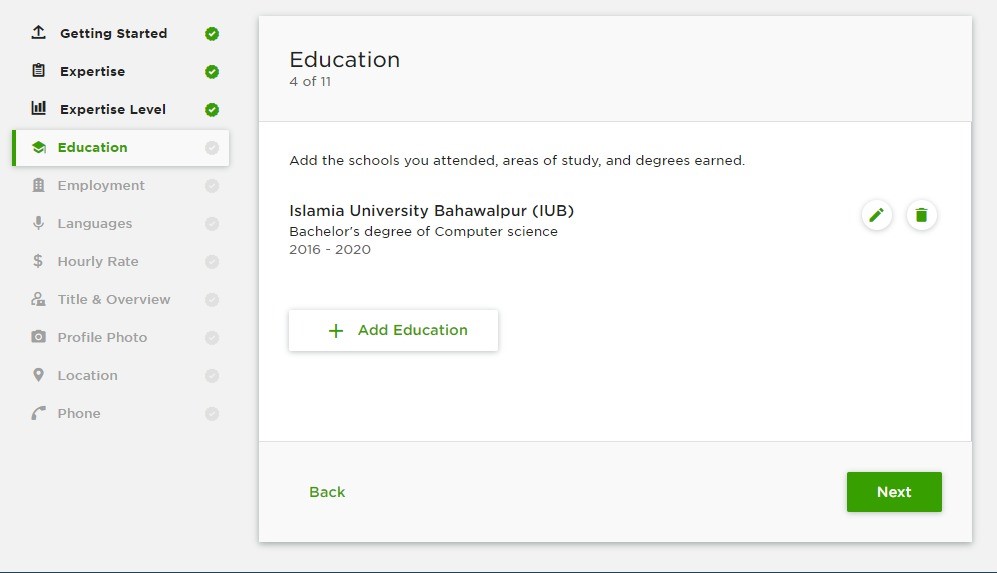 Make sure to specify the university name here. If you are unable to find it in a drop-down menu, you can type yourself. Also, include the degree & year of study with it. You can also choose to add courses & areas of study in the description but it's not mandatory to add at this level.
Employment
It only makes sense to add current Upwork profile specialization experience here. You can add the company name, the city it belongs to, your service area in the company & years of experience with it.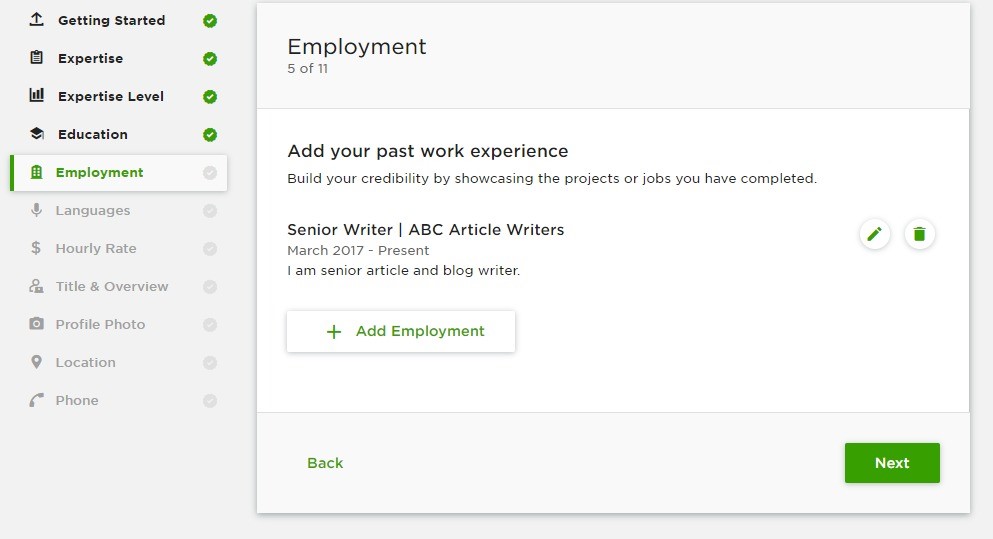 Language
You are required to choose English skills at this level & you can choose other languages you are an expert at. Make sure, to be honest, while choosing your English proficiency. But, choosing the basic English level is perceived as you don't know English at all. Be confident about your skills, because, in my point of view, English is all about confidence.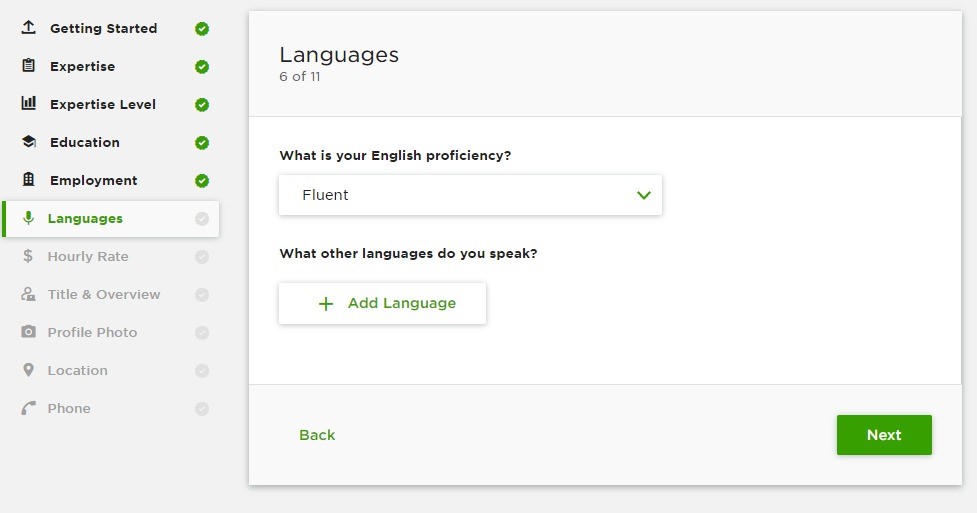 If you are unsure about your English skills, take your time to improve it because communication matters a lot at such platforms as the clients are going to judge you through your words especially.
Hourly Rate
The hourly rates depend on your work experience. Don't choose to be a low rated freelance because it may sometime give a bad impression to others. Even if you are an entry-level freelancer, make sure to write reasonable hourly rates, like in the picture below.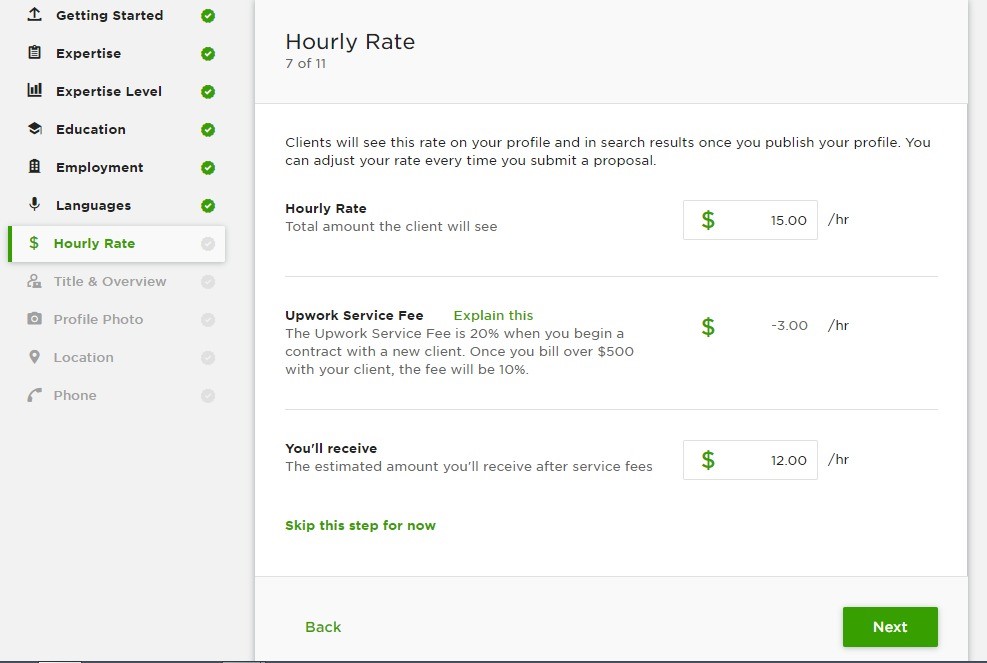 Title
Your title must describe you i.e. your skillset. For instance, the Expert Game Developer.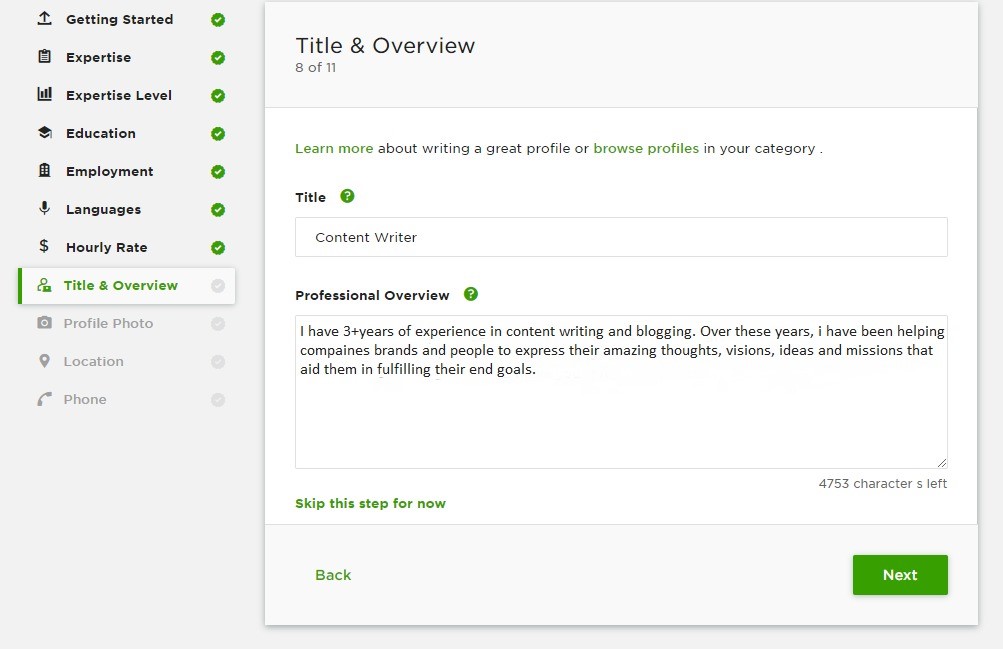 As far as my opinion is concerned, using an expert is something that relates to the old school. Everyone on the platform is using it so it isn't much useful anymore. I would recommend you to just use Game Developer instead. It is also a good idea to add specific tech, framework, or area of functionality in your title.
Overview
The next task is to write an overview. It is somehow complicated & long process but you need to write a clear & concise overview so that Upwork accepts it. Following are some overview writing tips:
The first tip is to make sure that your overview is at least 500 characters long.
Your name is already displayed on profile header so don't re-write it in your overview.
Make sure to tell your potential clients in an overview that why you are useful for them to hire.
It is prohibited to put any link or URL in an overview.
Make sure to write everything in the form of short paragraphs.
Make sure to write about your past work experiences & you can mention any big companies you have worked with.
You can also mention technologies, software, etc you usually utilize for work.
Last but not the least; recheck your written phrases several times for any grammatical mistakes or typos.
Profile picture
The most important thing to mention here is that general images & logos aren't going to work for you at this platform. Make sure to upload your profile picture to make it work.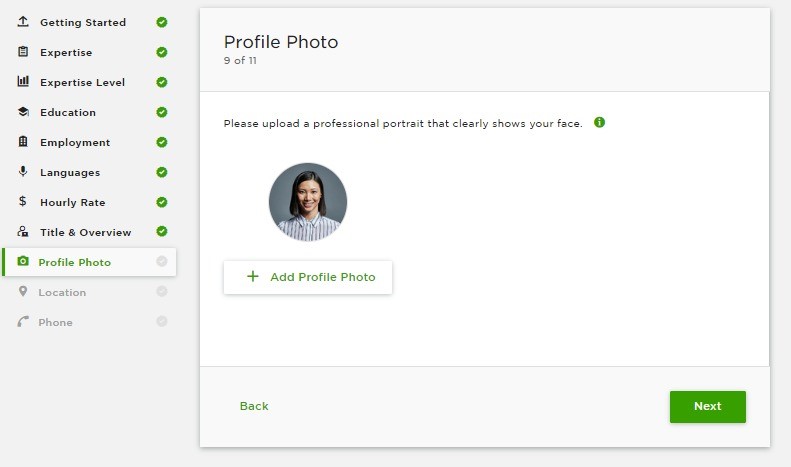 Photo correction isn't allowed at all. Your profile picture will be framed in a circle when uploaded, so it is necessary to choose a picture with a clear face exactly in the center. Make sure to upload a high-quality picture with the simplest background.
Availability & location
Finally, at this step, you are supposed to add your availability & location. If you are going to be a full-time freelancer, you can add more than 30 hours per week but if you have another job, writing 30 hours per week would be enough.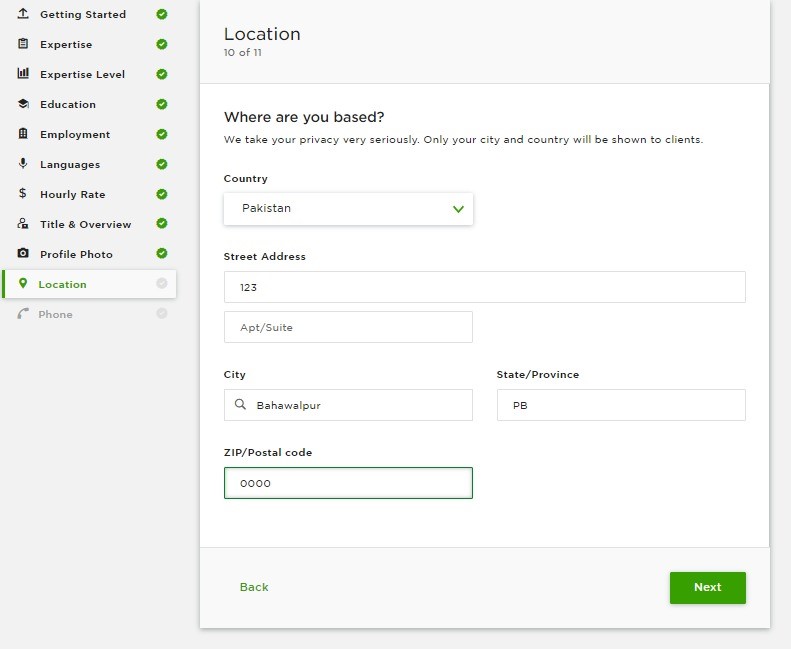 If you are not sure, you can choose long or short term projects, rather than entering the exact hours for a week.
Phone number
You are supposed to write your existing phone number here. Writing fake one can let you face trouble later because Upwork can ask you to confirm it later.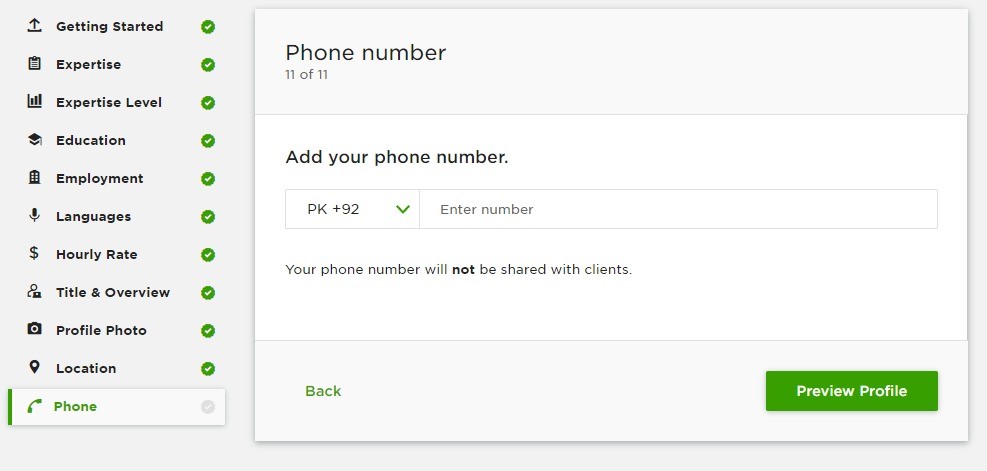 The next is the phone number & you must provide the real one because it may aid you later in recovering your account if any unpleasant situation occurs.
Look for the Review application & Submit button & click on it. You are done with your Upwork registration. But, you need to wait for your account approval to start working. You will get notified with 12 to 24 hours via email. Best of luck! J
Payment options
Now you are almost done with your profile, you are ready to go. But, how you will withdraw money from your account?
Upwork allows you to withdraw money in the following ways:
Payoneer
PayPal
SWIFT – Wire Transfer (Direct bank transfer)
Direct withdrawal to US Bank (ACH)
Each & every option is amazing but you must choose the one keeping in mind your location & requirements.
For Asian countries, the USA & Europe, Payoneer is the best option because its easy to use & have reasonable fees.
PayPal has a high fee & is suitable for the USA & Europe freelancers.
Wire Transfer is easy to use & profitable for large amounts only.
Tax form
To make your Get Paid button active, you need to fill out the tax form. Go to the profile setting & fill out the tax information.
The residents & non-residents of the US both will complete it.
Settings. (Your name at the header) -> Settings
Tax Information.
The US residents must make sure to provide detailed tax information i.e. name, address, SSN & other related documents.
If you are not a US resident, choose I am not a U.S. person. Repeat your First & Last name in English in the Legal Name of Business Column. Make sure to leave the address unchanged & checkmark to agree with the rules.
You are now GOOD TO GO!!
Lots of luck!! 🙂