Bella Hadid is a powerhouse when it comes to the fashion world. At 23 years of age, Bella has modelled for top brands. Also, at such a young age, she is already headlining major fashion campaigns. Last Friday, she graced the French Vogue Fashion Festival in Paris. It is not the Festival which caught the attention of the paparazzi or the visitors.
It was her appearance which got the audience talking. Bella Hadid wore a leather jacket without any shirt underneath. The long-sleeved jacket had long sleeves and reached to Bella's knees. To keep the jacket in place across her chest, she used tiny strings. The jacket is a design by Supriya Lele her Spring/Summer 2020 collection.
Bella shared her looks on Instagram.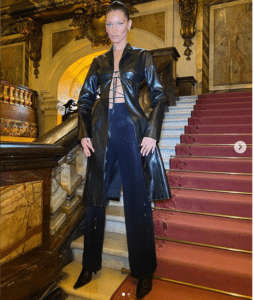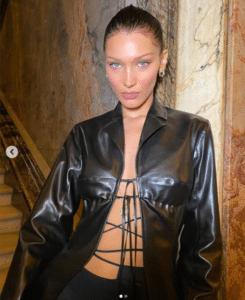 Bella can also be seen wearing leather boots. In addition to this, Bella wore pants which are held together by criss-cross strings. It is not the first time that she made headlines this month. In the beginning of this month, she attended the CFDA/Vogue Fashion Fund Awards in New York City. Her velvet bodysuit and the pearls on it were nothing short of stunning!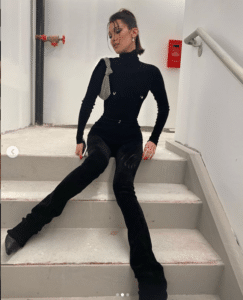 If you find this look stunning, her Halloween costume was nothing short of breathtaking. The model wore a sexy catsuit, a popular choice among many ladies this Halloween. Let us know what you think of her looks in the comments below.