Although Instagram has changed very little over the years, saying 'Nah-uh' to having an Instagram account will surely bring upon you, heaps of boos. If we stick to the fact, it is quite unusual, or we say abnormal not to have an Instagram account in today's age.
Instagram, also known as insta in millennial language, has become a central hub for many people, including influencers, bloggers, travellers, artists, and businesses. Why shouldn't it be? With a connectivity of over 300 million people, it is quite obvious to gain recognition with the right and catchy content.
How To Grow Up Your Instagram Game?
It is quite challenging to set up a trademark with just a photo-sharing application. But, if you look at the bigger picture, it is more than that. It can turn out to be a part of your life or business, to spread your vibes aesthetically through posts, comments, sharing and 24-hour stories.
Now, once you are aware of unicorns and rainbows aspect of Instagram, let's get to the real talk. How can you grow and standout your business in a world full of Instagram account? Sorry to break it to you, it doesn't happen overnight, have some patience, and keep reading.
We have collected some expert tips that have proven to get business' reach to their audience and prosper accordingly:
Work On Your Instagram Profile
It only takes the tiniest amount of time for users to make an opinion about your brand online, make sure it's worthwhile! That can be done with enhancing the profile itself, as it is sort of your landing page when people will search for your brand. Do make sure, when you are creating an Instagram account you opt for a Business Profile account, not for the normal user account.
Here is what you can do to your profile:
Write an Appealing Bio- If you aren't aware of the Instagram layout, bio is the first thing that appears right under your brand name on the profile. Therefore, it is important to convey your brand's voice through it. It should be three things, relevant about the brand, appealing and connectable to your audience.
Add your Business Link- Instagram allows you to add your website link under your bio. Adding a website link increases people's trust in the authenticity of the brand.
Once you have decided to add your business link to your Insta profile, it is totally up to you, whether you add a link to your website's home page, or keep changing if something new launches or current campaigns going on.
Speak Through your Profile Picture- A picture speaks a thousand words, who knew this phrase would actually turn out to be true in the digital world.
It is important to choose an appropriate profile picture related to your brand, as it will serve a purpose when people go through your profile. It can be a logo, trademark, logomark or mascot. Don't let us stop you from running your creative horses; it is your brand think wisely!
Decide Your Goals
When it comes to Instagram Marketing, it is no different than other types of marketing. If you want to reach somewhere with your business and brand, it is good to start with setting up goals you want to reach with your profile.
Here are a few instances:
If your brand is just starting up, you might want to consider creating awareness as your goal
Launching some new product line? Showcasing your products and attracting the relevant audience through it can be a pretty good goal
In addition to that, some other goals can be increasing brand loyalty or your Instagram community
Aesthetics Make a Difference
If you ask me, I am a sucker for those colour coordinated Instagram profiles. If you are a beginner and thinking about what I am talking about, most people and brands use a specific colour palette to make them stand out in the Instagram Community.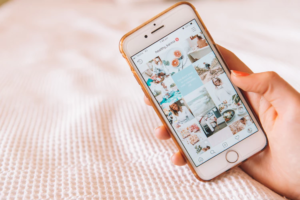 Incorporate your brand colours and visuals in the photos that you are posting. Do remember the more attractive your profile is, the more business you bring in.
Communicate Through Captions
Pictures and videos look more informative when some little description is added to them. Instagram took advantage of this thing and allowed you to add some captions to your posts.
Here is what you can do, use this small caption place to communicate with your audience. It is a chance to throw them an engaging question, give them updates or attract them with some catchy headline. It is your little creative space, write whatever you want but keep the voice of the brand in your consideration.
Some Extra Fun Stuff
Who would have thought, running and marketing your business can be an enthusiastic task? Yes, you heard right. There are tons of things you can do through your Instagram Account to excite your audience as well as make them visit your profile over and over again.
Carry out occasional giveaways and contests on your profile. Set a reward for your contests, and see yourself gaining followers. Run your mind, and think of some creative ways to make your giveaway and contest successful.
Make use of stories feature on Instagram. It's a fun way of showing your followers what's been up today even when you are not posting pictures in profile.
Everyone loves a BTS. Take people behind the scenes through videos or stories, and ask people to share their thoughts.
Add relevant hashtags. Hashtags make your post visible to people who aren't even following you but are interested in the hashtag you just added.
Connecting the dots
Be it your personal account or a business account; if you are trying to gain some recognition, the key to success is patience and consistency.
You can't expect to gain million followers, likes and comments overnight that too by just posting once in a blue moon. Take your time and experiment with different methods, and analyse what your viewers like the most. Happy Instagramming!
©Copyright Humari News