Wedding season is at its peak nowadays, and the main problem is outfits for the bride. The bride is the main center of attraction in the whole wedding, and everyone awaits around the aisle to see what she is wearing. To look completely magnificent and sensational on your big day, you as a bride want something completely out of this world. So in this article, all your problems will be resolved as I'll give you some of the latest ideas for bridal dresses for barat.
30+ Bridal Dresses for Barat
Here are some of the best bridal dresses for Barat that'll make people go head over heels for you.
1. Lehenga with a Long Shirt
In Pakistan, brides mainly go for lehenga, and for full coverage, they opt for long shirts as they give a more modest yet trendy look to their outfits.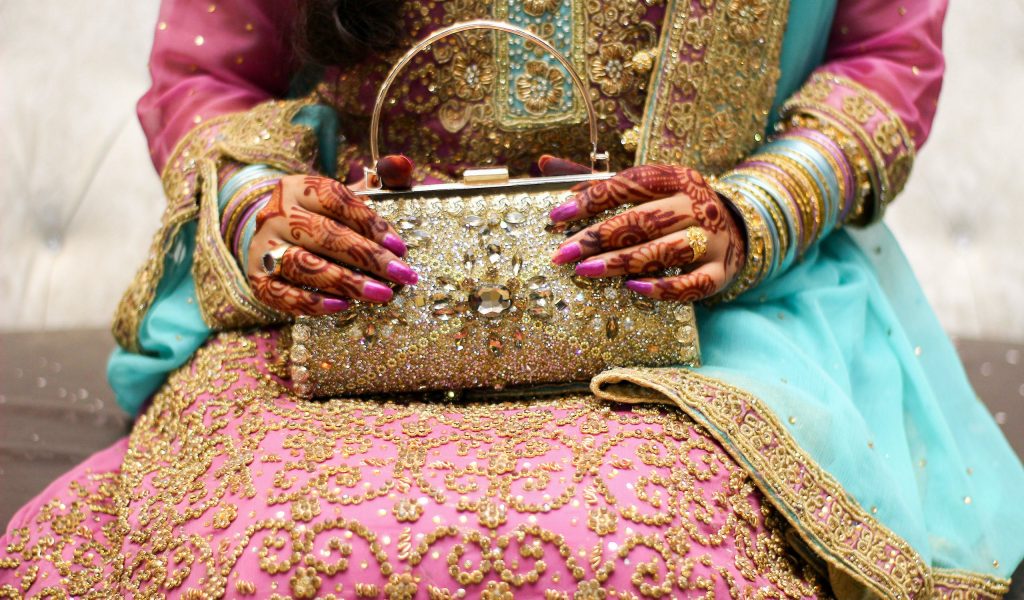 2. Ghagra Choli
In simple words, it is also a lehenga outfit and here ghagra is a lehenga whereas choli is a short shirt, which is worn mainly in Pakistan and in most of South Asia.
3. Lehenga with Short Frock
Another idea for bridal dresses for barat includes a lehenga but paired with a short frock. The frock gives a frilly upper look with a beautiful bottom in the form of a lehenga.
4. Anarkalis
Anarkali is one of the traditional outfits that has been worn in Pakistan for decades, and still, it has its charm. Every year it comes out with some new variations and becomes more trendy.
5. Shararas
Shararas are like flared pants. They are loose all the way from top to bottom giving a really flouncy and flowy look to the outfit.
6. Bridal Dresses for Barat: Ghararas
Ghararas are like sisters of Shararas, with the difference that, Ghararas are fitted from the waist to the knees, and then there is frill going all around. They are worn with long shirts, and in Pakistan, it is like those bridal outfits that you will even find in your grandma's closet. But due to its regal look, it is trendy till now.
7) Bridal Shalwar Kameez
Some brides go for a really simple look on their Nikkah/ barat look. They just like to wear something that is worn on a daily basis but with the touch of heavy embroidery and exceptional colors. 
8. Bridal Saree
Who said sarees can only be worn at farewells or dinner parties? Nowadays, Saree is one of the most in-trend bridal dresses for barat in Pakistan. And if the main person i.e. the bride is wearing it, the radiance it creates all around is just magnificent. Saree on its own is so feminine and when worn on Barat it looks divine.
9. Banarsi Saree for Brides
Saree is worn in many different cloth types but majorly it is worn in Pakistan in banarsi cloth. Banarsi sarees are so old and have their roots in India. But still, when someone carries a red banarsi saree with a red dupatta on their wedding, the whole look creates magic.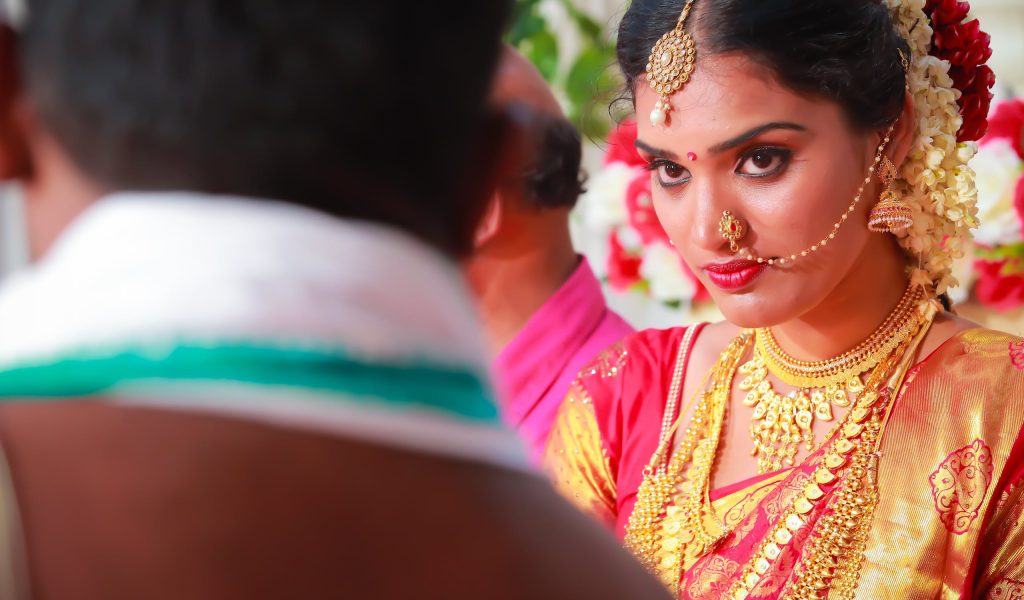 10. Modern Bridal Gown
In Pakistan, brides wearing the traditional red lehenga choli on their barat day is a must. But there are some who want to have a modern look and do something out of the box. If you are someone inspired by Western weddings, you can opt for a really long gown with a long tail and beautiful work on it in bright colors. But remember, you need to decide your theme ahead of time so you don't end up freaking out on your big day. That's why, we suggest wearing pastel-colors as everything will naturally blend together. 
11. Farshi Pajama with Long Shirt
Farshi pajama is one of the latest bridal dresses being worn these days. They are basically long plazos worn like a Sharara but have a slightly less bouncy look in them. They are worn with a long shirt and a coordinating or contrasting dupatta on the side. This whole look is so exquisite and classy.
12. Floral Bridal Dresses for Barat:
Most brides go for embroidered or heavily stoned dresses, yet there are some who want to have a really different look. So, if you have such thoughts in your mind, you can go with floral dresses for your Barat. These dresses either have floral work on them or floral pati attached to them or maybe some really captivating floral print on them.
13. Dark-coloured Bridal Dresses for Barat
In Pakistan, most of the brides go for cherry red, champagne red, or simple red-colored outfits. Whether they are lehengas, Anarkalis, Ghararas, or anything, brides in Pakistan mostly go for red or maroon color. And if not red, then some really bright and dark colors so they can stand out in the whole gathering.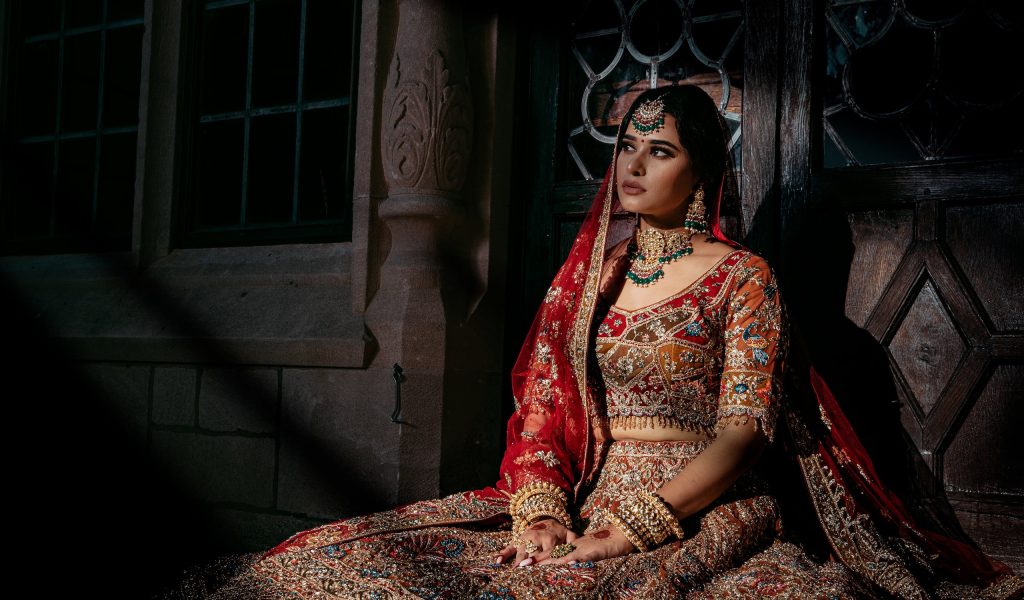 14. Light Monochromatic Looks for Barat
As most of the brides in Pakistan go for dark and bright colors, there are some who want to go with their white flower theme or they just want it to be kept simple. And if you have a daytime barat event, then, light and pastel colors should be your best friends. Moreover, you can go for a light-colored base outfit with some dark-colored dupatta draped around, it will give a royal look to your whole outfit, like golden with red, or off-white with royal blue. Sounds mind-blowing, right?
15. The Turkish Hijab Look
Pakistan is a Muslim country, and most of the brides want to remain steadfast with their hijab even on their barat day. So if you are one of them, you can go for the Turkish hijab look, which is a puffy and completely draped hijab look. Brides who opt for this mainly want a simple hijab look yet elegant and unique.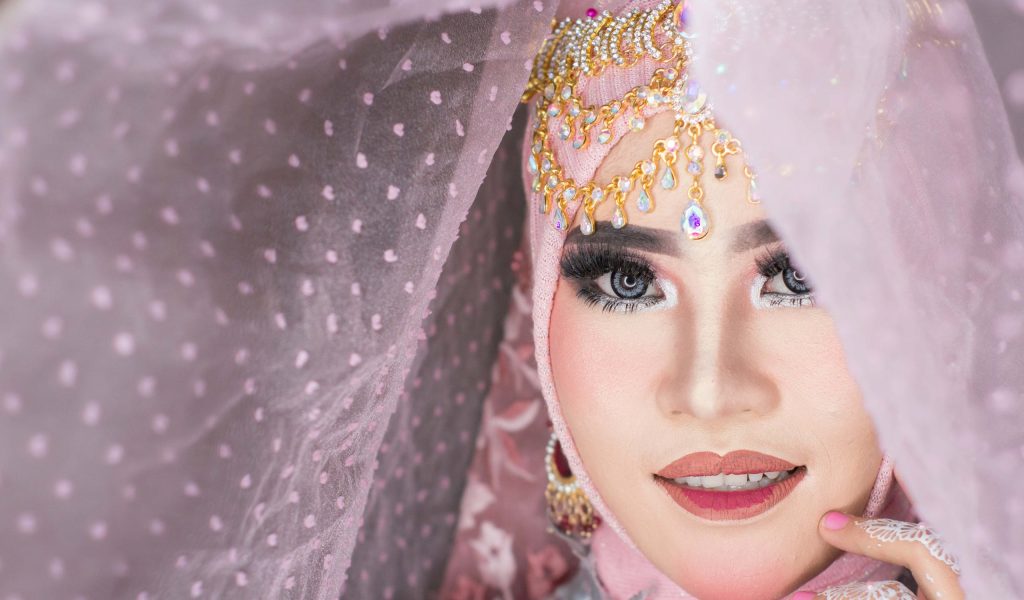 16. The Side-Swept Hijab Look
While some brides, try to go for the best possible hijab looks, there are some who want to keep it easy and simple. This look is just like wearing a dupatta and doing a one-side sweep with it. This look will help you to make your earrings and necklace visible. 
17. Hijab with a Face Veil (Niqab)
Many Muslim brides go for a more modest look, so they tend to wear a niqab as a face veil with their hijab. You might be thinking that it would be hard to make this whole outfit look good, but if you wear your hijab and niqab in a well-mannered way that goes well with the respective attire then everything is good.
18. Velvet Bridal Dresses for Barat
Velvet dresses are so in fashion in Pakistan, nowadays. Classical black or dark red velvet lehenga or long maxi with heavy embroidery on them is just one of the most royal-looking bridal dresses out there. And if you have a winter wedding, then what's better than a Velvet dress? Comfy and beautiful.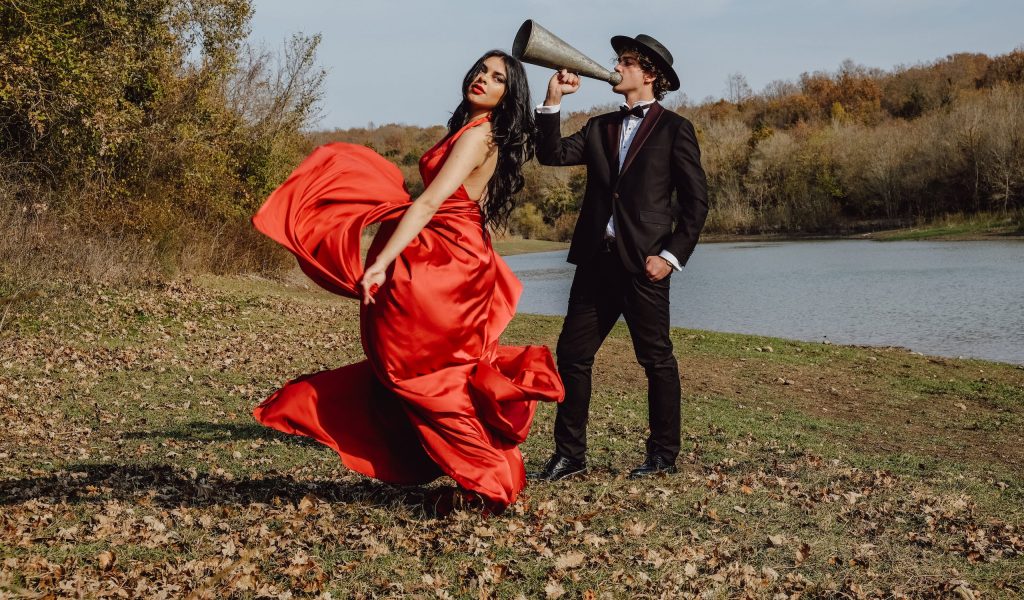 19. Heavy Co-ord Sets for Brides
While some go for lehengas and anarkalis, some just decide to go for a pair of trousers with a shirt. And obviously, it is your wedding so you are not going to just go in pajamas. Nowadays, designers are offering a great variety of heavily embroidered co-ord sets for brides for their barat in Pakistan. A coordinating outfit can be anything like a frock or kurta with pants or Patiala shalwar.
20. Bengali Bridal Look
In many parts of Pakistan, there are brides who go for Indian looks like Bengali look for their wedding. It is a red lehenga choli, with mainly two dupattas going around, among them one is taken with a kamar bandh.
21. Kurti with Potohari Shalwar
Potohari shalwar with kurti is an infamous look carried by many rural brides in Punjab.
22. Firaq Partug
Firaq Partug is a traditional outfit worn on barat day by brides in Khyber Pakhtunkhwa. It is also worn in Afghanistan and by most of the Parhana community. It gives a stunning look when worn with silver oxidized jewelry as a Head and neck piece.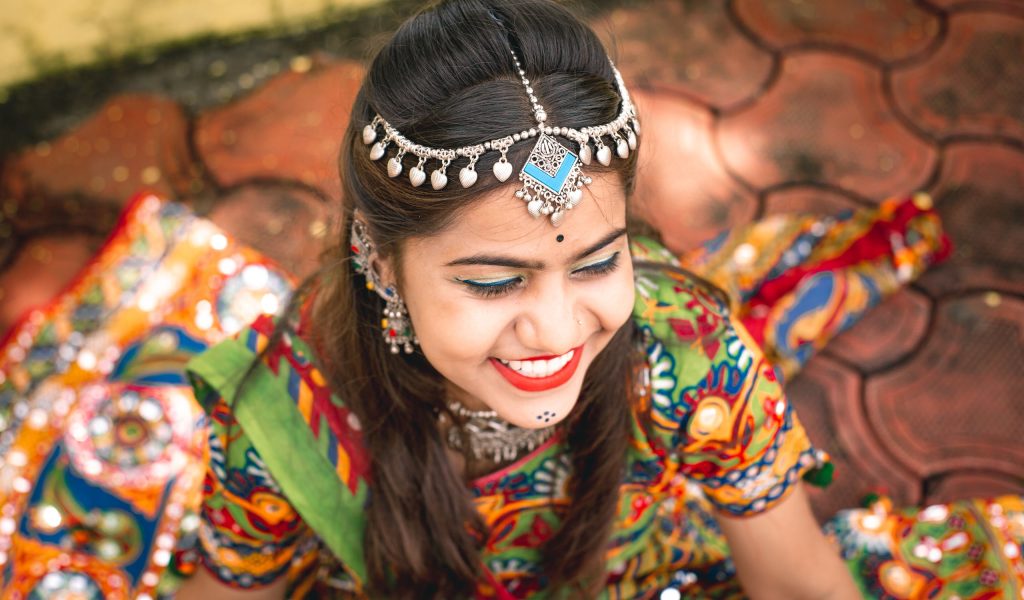 23. Gota Embroidered Bridal Dresses for Barat
Gota work is really popular in Pakistan. And dresses with gota work are mostly worn for mehendi or mayon yet some go for gota embroidered bridal dresses for barat day.
24. Chic Bridal Dresses for Barat
There are many brides in Pakistan who want to go for some modern look yet want to keep it traditional. A long or normal-sized coat or blazer worn on a lehenga or Anarkali gives such a chic look and is one of those outfits that are safe to go when playing with modern attires.
25. Bridal Dresses with Cape
The Cape look is so trending nowadays in Pakistan that all designers are trying their best to make the best look out of it.
26. Angrakha
Angrakha is like an outer robe worn on a dress. It is like a Persian cape which is tied from one side and mostly worn by Pakistani brides for their barat due to its traditional roots and radiant colors.
27. Lehenga with a Waist Belt
Lehengas are so popular in Pakistan and are crowned as the most worn outfit on barat by Pakistani brides. A new trend going on you will definitely love is a waist belt draped around the dupatta. This waist belt comes in many varieties, either with gota or mirror work, something that suits your attire.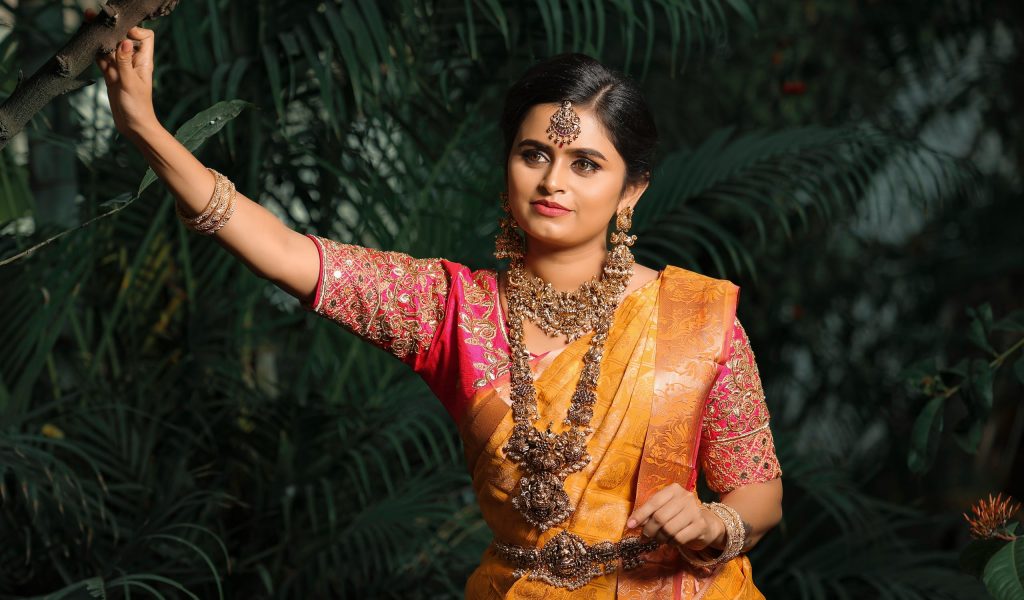 28. Long-tail Bridal Dresses for Barat
Long-tail bridal dresses are mostly worn in the West but now they are in full fashion in Pakistan too. Brides go for long-tailed capes, dupattas, or saree pallus. This makes the bride stand out in the whole gathering and gives off princess vibes.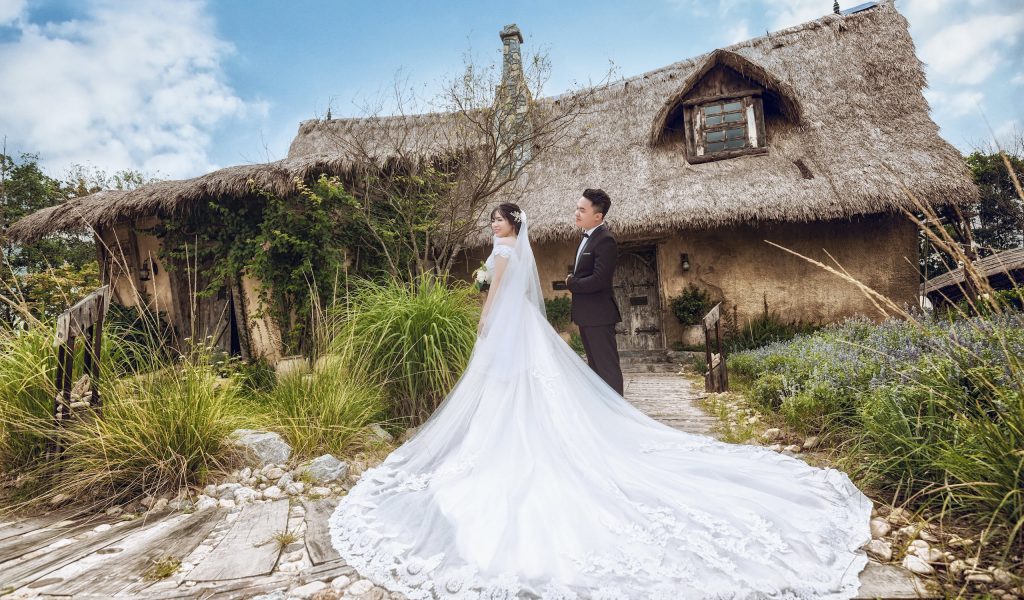 29. Front Long Slit Bridal Dresses for Barat
A long slit in the front is like an ongoing trend nowadays, it gives modern vibes even with desi looks.
30. Shawl Carried on One Side
A shawl with heavy embroidery on it, worn on one side makes the whole look of the bride completely magnificent. Velvet shawls are mostly carried for this purpose with the work of dabka or stones on them.
Designers and Online Sources with Price Range for Bridal Dresses for Barat in Pakistan
In Pakistan, the most famous designers for bridal dresses are Asim Jofa, Sana Safinaz, Hassan Sheheryar Yaseen (HSY), and many others. They offer a great variety of dresses for brides for barat ranging from 100,000 (1lac) to more than 10,000,00 (10 lac). Some of the online sources that offer the best bridal dresses for barat in Pakistan are LAAM, La Mosaic, and many others. They also give an affordable range of clothes ranging from 49,000 to 208,000.
Bottom Line
When you are going for the trials of bridal dresses for barat, the major things you have to keep in mind are your fittings, best shades, and what color would go well with your jewelry and theme. Here, we have discussed all the latest designs from ethnic to modern. So, just keep on looking for the best designs and you might be able to find your dream dress real soon. Happy Shopping!
Read More: 15 Most Elegant Wedding Party Wear Dress Ideas for Festive Season 2023
FAQs
What jewelry should I buy for my barat/wedding?
Gold pieces are the best choice but if you have a silver look then you can go for silver or rose gold jewels.
What dupatta style should I opt for on my barat?
You can take it on your head, on one side of your shoulder or even you can wear it as a cape. 
Which makeup look should I get done on my wedding?
Gold or copper-colored eyes with dark red lips is the best makeup look for your barat day.