The number of bloggers is increasing significantly, not in a country or two, but all across the globe. So, it requires much time, attention & hard work from your end to make your blog stand in this fierce competition, where millions of blogs are already there. For this purpose, the primary component is choosing the WordPress theme for your blog. An appealing & relevant theme is what can make you stand out & catch the viewer's attention. But how you can select the one best theme for you? Things become more complicated especially when you are new to blogging as there are more than a few themes available already.
If you are struggling for this for so long, here you are at the right place. We have formulated the list of top WordPress themes for blogs 2020 so you can choose the best one for you quickly from the list.
Also Read:
List of Top WordPress Themes For Blogs
It is obvious that your blog is not competing with each & every blog around the globe but even in the niche categories, the competition is severe. You might be a matchless writer or a great cook, but no one is going to see your content if it is not appealing visually & you will keep struggling to get readers or viewers. As per research, around 40% of people quit using sites with boring & unattractive layouts. So, it means that if your blogging website is having design flaws, you will lose 4 out of 10 visitors.
The best WordPress themes are always search engine optimized. So, when you choose to add the right theme, it boosts organic reach & improves visibility.
1. Newspaper
You can add this Newspaper WordPress theme to your blogging website for just $59. A lot of people wonder why they must purchase it when so many free WordPress themes are available for blogs. But, this WordPress theme for blogs is well worth the price.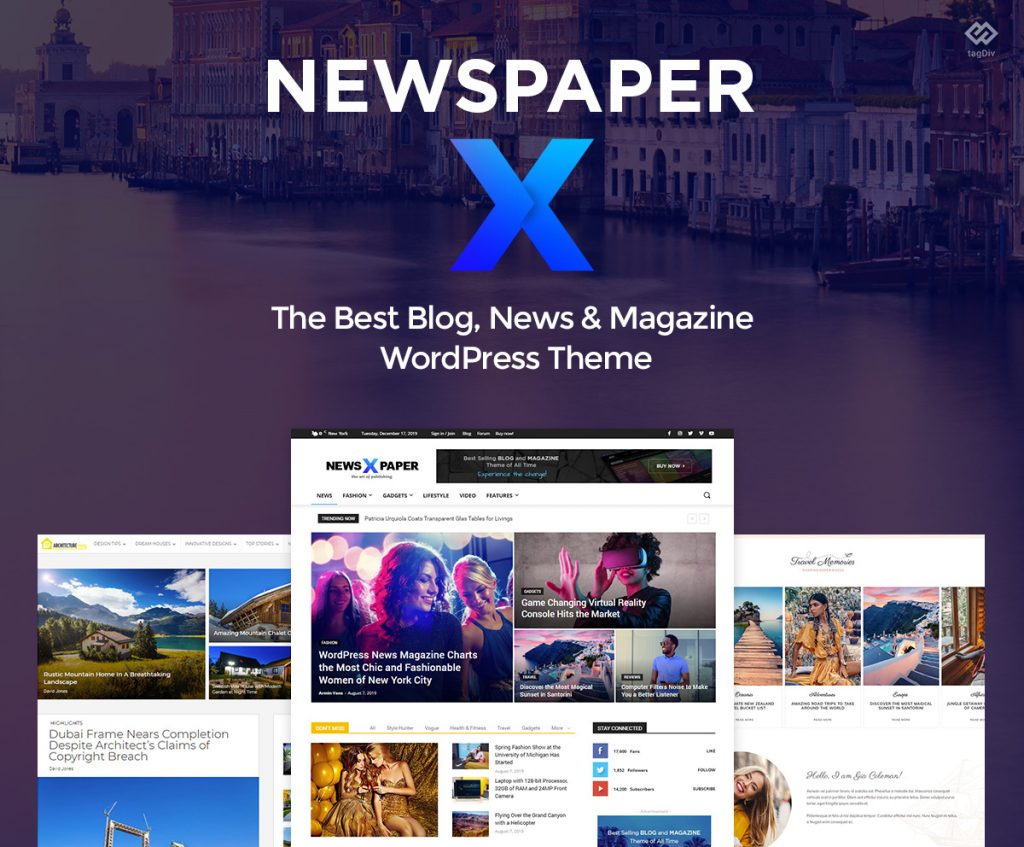 Don't judge the theme for its name as its really versatile, modern & above all, professional. Despite using it for a magazine type website, it can also be customized to fit a blog or a review website. The easy customization & versatility is what makes it a preferred choice of many people. You can choose it for your blog, regardless of what niche you are working on, as it's going to meet your requirements in every aspect. With its drag & drop element, you can easily change hundreds of elements on page. There are more than a few options available for header & footer customization of your blog with this theme. With its amazing grid design implementation, one can highlight specific categories, pages, or tags.
It is compatible with Google Adsense & Woocommerce. It has an amazing page loading speed with AMP ready. This WordPress theme applies top SEO practices & is mobile friendly too.
2. CheerUp
Another amazing & versatile WordPress theme for blogs is CheerUp. It is more suitable for tech-savvy bloggers but can be utilized for lots of other blogs. It comes with custom toolsets, plugins, and widgets (which are much needed to enhance the WordPress website) & is made to work with unison. So, if your blogs have a number of add-ons, CheerUp is a top choice for you.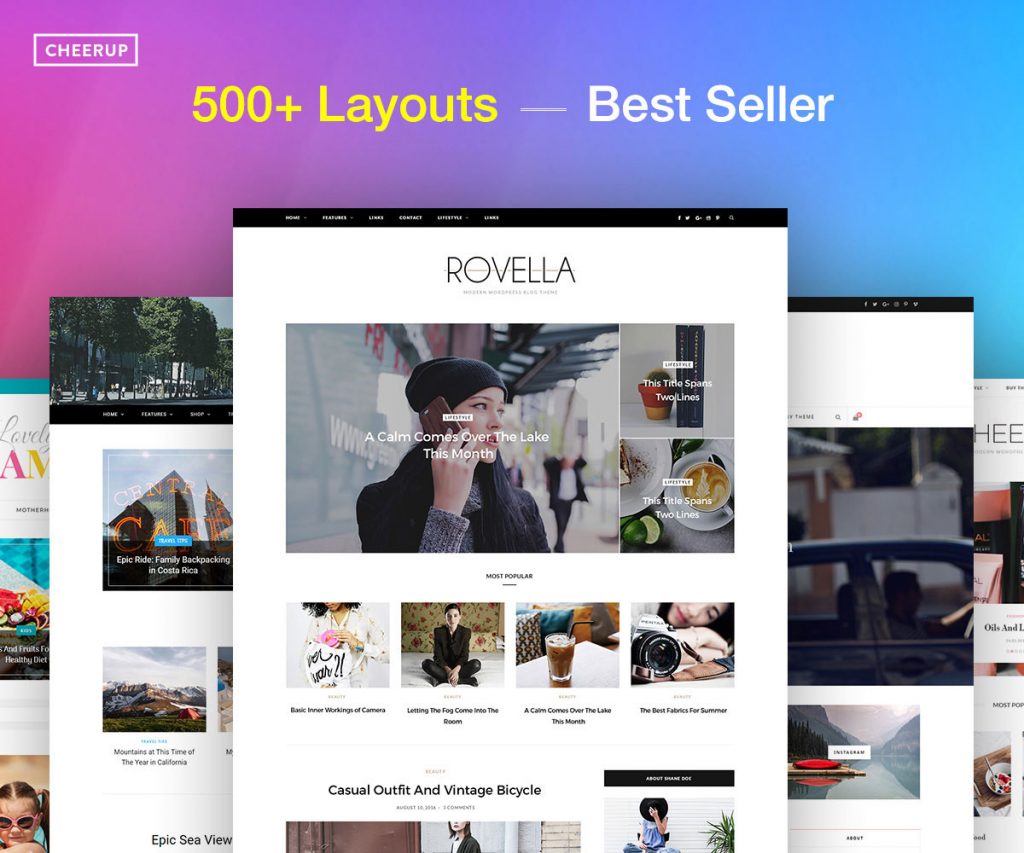 The thing I love the most about CheerUp is that it comes with 12 diverse designs, which comes with 100 variations of layouts so you can choose the best one for you. So, if you choose CheerUp for your blogs, it will make your website look unique, even from those which are using exactly the same theme. You can also integrate this theme with social media networks to encourage the sharing of your blog posts. Spending $59 for purchasing CheerUp is worth the money as its AMP supported, search engine optimized, highly responsive & has the fastest loading times.
3. Stockholm
When we talk about the Stockholm WordPress theme, three words would be enough to describe, which are modern, trendy & clean. As a blogger, everyone has to make sure that it's simplest for the visitors of your website to access the desired content from your site, to navigate the page or to engage with your writings. In almost every possible category, Stockholm can aid you to accomplish the above-defined things successfully and that's the reason it's the preferred choice of many bloggers.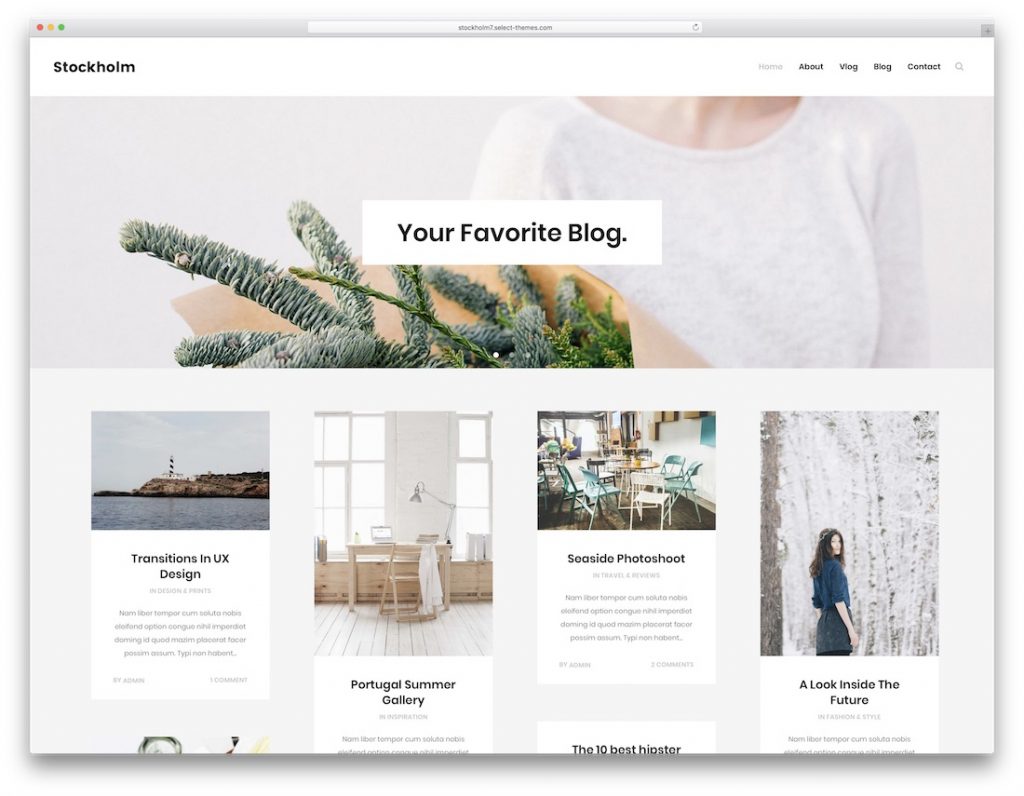 You can purchase it for $69 & get started with the simplest designs. Later on, you can customize it to exactly meet your requirements. You don't require any technical or coding knowledge for this & simply you can enhance your website. Stockholm has specific layouts designed for restaurants, architecture & eCommerce stores.
4. Jevelin
Jevelin is one of the most versatile WordPress themes you can buy for $59. It offers more than a few popular categories, which include: Education, Fitness, Photography, Food, Events, Finance, Beauty, Portfolio & Medical.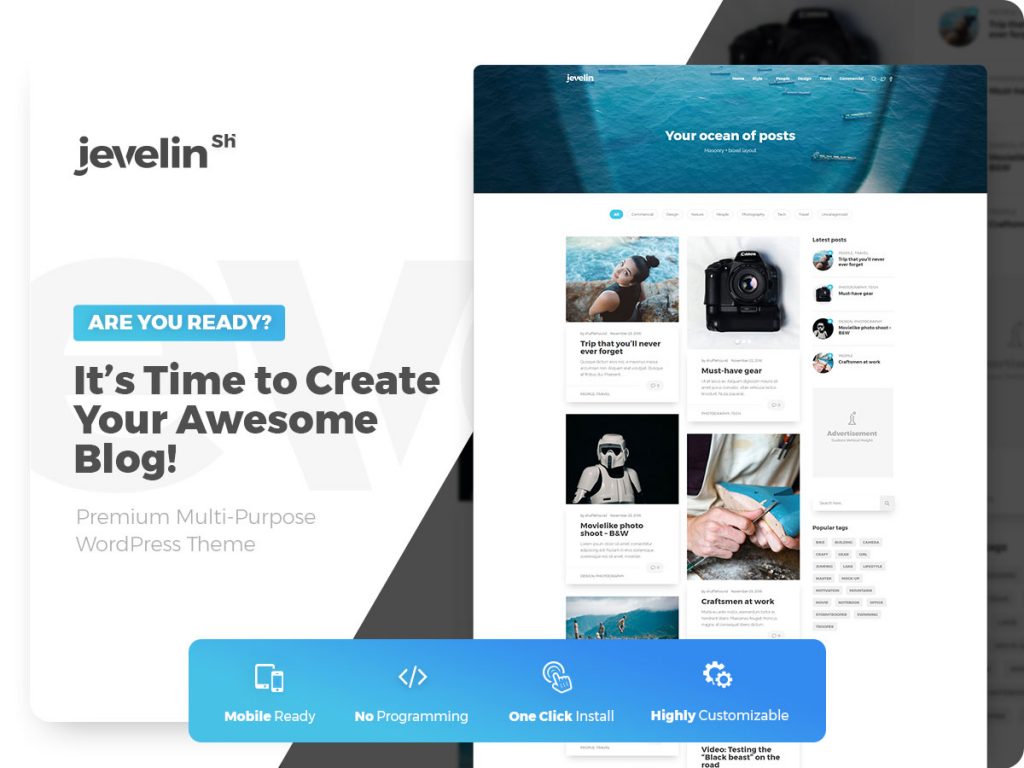 The best ever thing about Jevelin is that you can install it in your blog with merely one click. It is simplest to customize. So, you can easily pick a pre-built layout for your blog and then can adjust each & every element on the page accordingly with the utmost ease. It doesn't require any coding knowledge from your end. It is responsive, easy & quick. One more amazing thing to mention is that it makes available the previews live of any changes in real-time.
The best & the most popular layouts of Jevelin include Masonry, Creative & Grid however you can check out the others as well. Choose one of these to make your blog stand out & visually appealing.
5. Kale
The last but not the least on the list of top WordPress themes for blogs is Kale. This WordPress theme is best suited for the food bloggers & the best thing is that it's the free template. If you are a food blogger, you must know that standing out is a much difficult task as it's a common blogging niche. While eliminating blog clutters, this theme can provide you the edge in this scenario while showcasing your images at its best.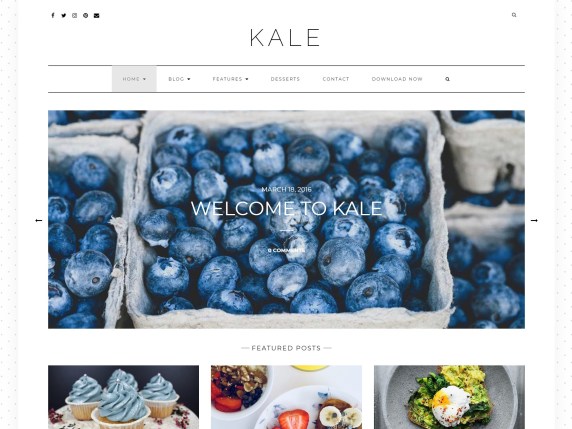 The Kale theme is intended for all the food related stuff like cooking, recipes, and food but its versatile enough & is customizable for the fashion niche too. This theme is having multi-level menus, sidebar options, thousands of layouts, & options of colour overlay for sliders & banners. The most important thing to mention is that all YouTube Videos are responsive to Kale. You can get started within minutes with Kale as it's the simplest theme to install. It also has Woocommerce integration so the bloggers can also sell easily if they desire.
So, it was my list of top WordPress themes for blogs 2020. You can put in all your efforts for your blogs but if your theme isn't right, you will fail. Finding a versatile& unique WordPress theme that meets your requirements & suits your style is crucial. This is the primary way to make yourself stand out to appeal your audience.
If you have more good options for the best WordPress theme than the ones listed above, let us & others know by commenting below.
Good Luck! 🙂